Watch Alaska Air Take Off
by
Among high-fliers these days are airline stocks, lofted by higher fares--5% more this year, on average--made possible by heavier traffic. But money manager Vince Carrino is looking for more than a surge in travel.
Carrino, who heads Brookhaven Capital Management in Menlo Park, Calif., is accumulating shares in Alaska Air Group (ALK) for three other reasons: It is among the lowest-cost operators. Its p-e is only 8, based on estimated 1998 earnings of $3.75 a share. And it is buyout bait, he says, for the likes of Northwest Airlines.
Alaska Air Group owns Alaska Airlines, which accounts for 81% of sales, and Horizon Air Industries, contributing 19%. With its all-jet fleet, Alaska Airlines is the premier carrier between Alaska and the lower 48 states. Horizon's turboprop jets serve 35 cities in the Western states and 4 in Canada.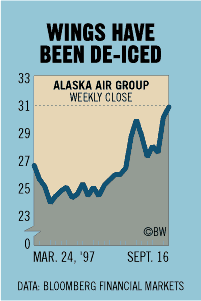 Alaska Air has climbed from 23 in mid-April to 31 on Sept. 16, but Carrino says it trails its peers. The stock, he figures, is worth 60: Low-cost operations will make Alaska a beneficiary of any small fare hike. The new CEO, John Kelly, has introduced new cost cuts, along with a new marketing strategy, says Carrino, who figures these moves will make Alaska Air even more alluring to Northwest. To compete with United, Northwest needs a West Coast feed for its Asian routes.
"By the end of 1998, we see four airlines being bought out in the industry consolidation," says Carrino. "And one of them will be Alaska Air."
Before it's here, it's on the Bloomberg Terminal.
LEARN MORE