U.S.: The New Economy Is Pushing Its Luck
Strong demand has resources stretched thin, and growth isn't slowing
by
Strong growth and low inflation: It has been the mantra for 1997. But even if you believe the New Economy view that the U.S. can sustain a faster pace of growth than previously thought without generating higher inflation, remember that noninflationary growth still has a limit, whether it is 2%, 3%, or even 4%. And as more and more data suggest, the economy is coming ever closer to stepping over that line.
The evidence is not in the inflation data--at least not now. The August prices reports show that inflation is cold as a corpse, and Wall Street is delighted. The month's smaller-than-expected 0.2% rise in the consumer price index, along with a benign 0.1% uptick in the core index, excluding energy and food, sent investors into a buying frenzy on Sept. 16. Bonds soared in their biggest one-day rally in more than two years, dropping the yield on the benchmark 30-year Treasury bond to 6.41% from 6.57% the day before. Stocks caught the bond updraft, and the Dow Jones industrial average soared 174 points.
The danger is that Wall Street apparently has chosen to ignore signs that the economy's resources are stretched thin as they strain to meet the robust growth in demand. Most recently, capacity utilization rates have spiked in response to strong output gains (chart), while delivery times have slowed considerably, and the labor market remains unusually tight. If such pressures keep building, even growth optimists eventually will have to cast a wary eye on the inflation outlook for 1998, and the Federal Reserve's possible response to it.
DEMANDS ON PRODUCTION CAPACITY and the labor markets are likely to intensify in coming months, given that growth in the second half does not appear to be slowing much from its rapid first-half pace. August data on retail sales show that consumer spending is rebounding strongly, and the July inventory numbers show no signs of excess stockpiles that could curtail output. In fact, new data on industrial production show that output is gaining momentum.
The real surprise in the latest batch of data, though, was a 180-degree turn in the view of pressures on production capacity. Before the August data, the utilization rate in manufacturing had declined for four consecutive months, to 82.1% in July. However, reflecting strong production, operating rates in both June and July were revised up, and the August rate jumped to 83.1%, the highest in nearly two years. On the two other occasions in the past 10 years when the rate had risen that high, the Federal Reserve already had begun to tighten monetary policy.
Consumers, in particular, will keep up the pressure on capacity. Retail sales rose 0.4% in August, and July sales showed a sturdy 0.9% gain. Even if September buying is flat from August, which seems unlikely, real retail sales this quarter would rise at close to a 7% annual rate, after dropping 2.5% in the second quarter. Also, the August data may well understate retail activity. Unit sales of cars and trucks, reported by car dealers, rose much faster in July and August than in the Commerce Dept.'s data, which are dollar values.
Reflecting buoyant home demand, retail sales for durable goods have been especially strong, with solid July and August gains in furniture and appliances. Housing starts in August dropped 4.8%, after a similar decline in July, but that weakness is at odds with the solid uptrends in home sales, mortgage applications to buy a home, and builders' own upbeat assessments of market conditions, which rose in early September to the highest level in more than a year (chart).
STRONG SPENDING is keeping inventories in line, despite the big first-half buildup in stockpiles. Inventories held by manufacturers, wholesalers, and retailers increased only 0.2% in July, after surging 0.7% in June. However, business sales jumped 1% in each month. As a result, the July ratio of inventories to sales fell to 1.36, close to the record low of 1.35 hit in February.
With inventories lean relative to demand, industrial production is free to pick up steam to keep up with the recent sturdy growth in new orders, and it's doing just that. Output in the nation's factories, mines, and utilities rose 0.7% in August. Manufacturing output, some 87% of the total, jumped 1% in August, and the advance in July production was revised up sharply, from 0.1% to 0.5%. Factory output in the third quarter is on its way to posting a growth rate of better than 6.5%, the fastest in nearly three years and a pace well in excess of the 4% or so growth rate of capacity.
A rebound in auto production boosted factory output in August, reflecting the end of model changeovers and a strike, and strong demand. But output gains were broad, too. Excluding autos, output rose a sturdy 0.7% in both July and August, led by large increases in aircraft, computers, semiconductors, and primary metals.
And in addition to stout consumer demand, the production data reflect strength in business spending for equipment. Equipment output surged 1.9% in August amid big gains in orders and shipments of capital goods, suggesting another bang-up quarter for capital spending as well as for exports, given that much of the recent strength in exports has been in capital goods.
BUT AS THE AUGUST PRICE INDEXES show, despite the strength of demand and production, inflation looks like a dying ember. In August, the yearly inflation rates in food, housing, apparel, medical care, and entertainment were all below their year-earlier rates. Transportation was the only sector showing faster price growth, but that reflected a first-half runup in energy prices. Both total and core inflation are likely to end 1997 a shade above 2%, down from 3.3% and 2.6%, respectively, for all of 1996.
However, one reason for inflation's timid showing this year has been the strong dollar. Its trade-weighted rise of nearly 20% from the middle of 1995 to earlier this year led to a 1.7% drop in import prices in 1996 and a 1.9% decline so far this year (chart). About a fourth of nonoil goods are imports.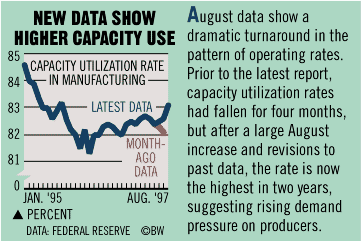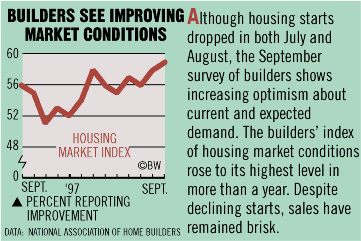 Prices of core consumer goods, excluding energy and food, fell in each of the past three months, something that hasn't happened since the superdollar of the mid-1980s. In fact, since early 1996, the annual inflation rate for such goods dropped from 1.8% to only 0.6% in August. However, much of the positive influence of the dollar's strength will have run its course by yearend. In the past half-year, for example, the dollar has risen only about 1%.
To be sure, inflation's passive showing to date, amid high levels of resource utilization, suggests that something is different in this business cycle compared with previous ones. But the question that Wall Street increasingly is ignoring is: With the economy this strong, how long can that difference last?
Before it's here, it's on the Bloomberg Terminal.
LEARN MORE