Onsale: Big Kid On The Cyber Auction Block
How the leading Web auctioneer outsmarts rivals
Susan Moran
Jerry Colonna is hooked on cyberbidding. The venture capitalist has snapped up $4,000 worth of computer gear from Onsale Inc., a Palo Alto (Calif.) company that runs an online auction house. "I bought one computer, then another, then a monitor, then a scanner, and then my wife cut off my credit card," he says only half-jokingly. "I love to outbid people. It's entertaining and I love a good bargain."
That type-A, high-testosterone attitude is just what Jerry Kaplan, co-founder and chief executive of Onsale, is betting on. Kaplan's Onsale hosted its first auction of computer equipment in May, 1995, and tapped into the early demographics of the Internet--mostly male and mainly nerdy. Onsale's customers are still 92% male and 70% are repeat buyers. Today, Onsale is the leader in online auctions with 1997 sales expected to exceed $80 million. Says Kaplan: "We're creating a whole new way to sell goods that appeal to male hunting instincts, to male gamesmanship, competition, and skill."
It also appeals to investors on the prowl for the rare Net startup making money. From the start, Onsale has racked up profits, albeit small ones, in the $50,000 to $140,000 range. Recently, though, it's been pumping profits back into the business, resulting in a $226,000 loss for the June quarter. Still, analysts expect the company to return to the black by yearend. And they're bullish in the wake of a Sept. 12 deal with America Online Inc., which will feature Onsale on its shopping channel, giving the auctioneer instant access to AOL's 12 million members. Onsale shares surged 50% on the news, to close at $23.50 on Sept. 15, nearly four times the April initial public offering price of $6.
"MONEY FROM HEAVEN." How does it work? Visitors to the site can bid on a wide range of new and refurbished gear that Onsale buys from manufacturers. The items are listed along with lowball starting prices, and visitors can post their offers around the clock over a typical two-day auction. Says Kaplan: "We mix the bargains of Price Club, the entertainment of QVC Inc., the skill of the stock market, and the luck of Las Vegas."
Kaplan may need some luck to stay ahead. Dozens of startups, such as AuctionWeb, Auction Depot, and Bidnask, have set up auction sites that, like Onsale, specialize in computer gear. And there are well-heeled entrants such as Internet Shopping Network's First Auction site, a subsidiary of Home Shopping Network Inc. that debuted on the Web in June. Some players are going to end up "as somebody's lunch," says analyst Mary Modahl of Forrester Research Inc.
To ensure Onsale is not one of them, Kaplan is launching a campaign to solidify the auctioneer's lead. The first step: expanding beyond computer gear. Kaplan, a PhD and composer, now hawks everything from microwave ovens to beachfront rentals to Omaha steaks. He also plans to sell complementary products to auction winners--for example, sending E-mail to pitch a new soundcard to the top bidder of a computer. Onsale also has begun accepting ads on its own site. "It's like money from heaven," Kaplan says.
That's a welcome change for Kaplan. A repeat entrepreneur, not all of his ventures have fared so well. His previous startup, a high-profile company called GO Corp. that made products for pen computing, was immortalized in Kaplan's tell-all book, Startup, a Silicon Valley Adventure. GO was sold to AT&T at a fire sale price in early 1994 after the pen software market went bust.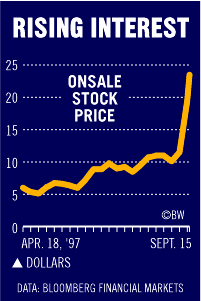 That's when opportunity came knocking in the form of Alan Fisher, a longtime friend. Fisher was wondering how he could more broadly apply online trading software he developed for Charles Schwab & Co. Kaplan had a flash. Why settle with buying and selling stocks? Why not create an electronic market for consumer goods with prices set by supply and demand? "I knew I could go be VP of B.S. at some big Silicon Valley company," he says. "Or I could take another swing at the ball."
What will the 45-year-old risk-taker do next? Kaplan's shares of Onsale are worth about $141 million. But he's not interested in early retirement--only in running Onsale. "And I'd like to write another book," he adds. But don't expect any tell-alls about Onsale: Kaplan's investors placed a gag order on him.
Before it's here, it's on the Bloomberg Terminal.
LEARN MORE