An Airport May Get Its Wings Clipped...As Opponents Flex Their Muscles
William Echikson
Hans Wernink is a proud man. Amsterdam Schiphol Airport's senior vice-president for marketing shows off the sparkling main departure lounge, full of chic cafes, ritzy stores, and more exotic options such as a Las Vegas-style casino and a Finnish sauna. Even more important, Wernink notes, passengers walk only short distances to catch transfer flights. In the past two decades, six different magazines have named Schiphol the best airport in the world.
But now, Wernink is paying the price for his success. Amsterdam's air traffic has almost doubled since 1990 and is up 11% this year alone, causing the airport to crash through its legal noise-pollution limits. Schiphol authorities responded on Sept. 11 by imposing draconian curbs on night flights, beginning on Oct. 1. They also have threatened to close down one runway during peak daytime hours. "In the past, we went out and tried to get more and more traffic," Wernink says. "Today, we have to reconsider our entire strategy."
Although other European airports are running short of runways and terminals, Amsterdam's dilemma highlights a more frightening constraint on growth--the environment. With four runways, compared with only two at London's Heathrow, Schiphol still can handle more planes. But the airport is located in the heart of Europe's most densely populated region, an urban sprawl stretching from Amsterdam through The Hague to Rotterdam. "You can't sleep with your windows open or go out in the garden because of the airplanes," complains Leo Mesman, a Green member of the nearby Haarlemmermeer Municipal Council. Some 200,000 complaints about aircraft noise are expected to be lodged this year on a telephone hotline, up from 135,000 in 1994.
The green pressure could produce serious economic fallout. "This is the first time an airport must clamp down not for capacity constraints, but because of noise," says Hans Knuvers, secretary general of the Air Transport Association Netherlands. Schiphol generates an estimated 2% of Dutch gross domestic product. Almost half the U.S. and Japanese distribution centers in Europe are based in the Netherlands.
Schiphol already is seeing some business fly away. Federal Express Corp. wanted to set up its European hub here last year, creating 3,000 jobs. "We couldn't accommodate them and stick within the noise limits," laments Ruud Wever, the airport's spokesman. FedEx picked Paris instead. Now, other cargo operations may pull out.
The booming passenger business could suffer, too. Unlike its main competitors--Heathrow, Charles de Gaulle, and Frankfurt--Schiphol lacks a large domestic market. Almost half its passengers transfer flights, compared with only a quarter in London. KLM warns that shutting down a runway during peak traffic time could cause delays for 6,000 passengers a day. "Schiphol's raisons d'etre are its punctuality and its hub-and-spoke system," says KLM's Peter Offerman. If the Dutch flag carrier can't expand further in Amsterdam, it too is threatening to shift more operations abroad.
Schiphol's planned fifth runway would permit planes to fly over less populated areas. But environmentalists see the scheme as a way of simply increasing traffic, so they are fighting back with cunning. Friends of the Earth has bought a small piece of the future runway's property and divided it among 1,000 owners.
"We have title holders as far away as Tibet," says a grinning Geert Ritsema, the group's airport project director. Airport authorities say it will take years to expropriate the land and at least until 2003 before the new runway comes into service.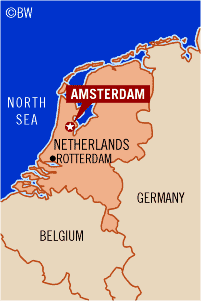 Long-term solutions look even more problematic. A small cargo and charter airport that could ease the strain on Schiphol may rise on a man-made peninsula near Rotterdam, but it also could cause disturbance over the city. Two other proposals call for totally new hubs, either in the Markermeer north of Amsterdam or on a man-made island in the North Sea. Each would cost at least $14 billion--and threaten new environmental disputes. "You never would be able to go swimming again on the North Sea beaches," Ritsema complains. The Markermeer is also a breeding ground for rare birds. So the dogfight over air transport may only get worse.
Before it's here, it's on the Bloomberg Terminal.
LEARN MORE