Weight Watchers Rethinks Its Duchess Of York Campaign
How do you market a duchess in mourning? Now a somber look is planned
by
The timing could hardly have been worse. Just days before Princess Diana's fatal car crash, Weight Watchers International Inc. sent direct-mail pieces to two million dieters in the U.S. In them, Diana's former sister-in-law, Sarah Ferguson, the Duchess of York, playfully proclaimed that losing weight was "harder than outrunning the paparazzi."
Weight Watchers had high hopes for the new diet the ads promoted. Known as 1, 2, 3 Success, the program was already a hit in Europe and seemed just the thing to reinvigorate the company's slumping U.S. business. But after Diana's death, officials at Weight Watchers, a $1 billion division of H.J. Heinz Co., hurried to yank similar TV ads that were part of a $10 million campaign.
NEW EMPATHY. Weight Watchers now plans to film new ads involving the duchess. Her one-year contract, which sources peg at roughly $1 million, expires Dec. 31. But they face a quandary: How do you market a duchess in mourning? "It's a dilemma we're all wrestling with," says Wayne Perra, Weight Watchers' general manager for marketing. They plan to ditch the jokes and replace Fergie's customary broad smile with a more somber look. The new Fergie, who will appear in ads in the next several weeks, say people involved, will likely express empathy with people afflicted by obesity and eating disorders.
The timing of the relaunch is still tricky, though. Weight Watchers wants to push its new regime soon because many Americans start diets in early fall, but give up around the holidays. But if the ads start too soon after Diana's death, consumers may resent the quick turn from grief to commerce.
For Weight Watchers, these complications are an unwelcome obstacle to a turnaround that has been a long time coming. Since the late '80s, its frozen foods have been in a price war with ConAgra Inc.'s Healthy Choice and Nestle's Lean Cuisine. Meanwhile, Americans have grown fatter: Roughly one-third are now obese. Some six million of them turned to diet drugs, which promised easy weight loss--and which Weight Watchers never offered. The result: Since 1993, Weight Watchers' attendance worldwide has tumbled from 4.5 million to 3.9 million, while sales plunged from $1.6 billion to $1 billion.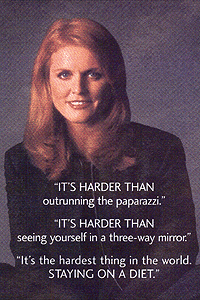 This summer, relief seemed to be in sight. Dieters by the thousands abandoned weight-loss drugs for health concerns, and news reports in August linked some of the most popular, Redux and the "phen-fen" mixture of phentermine and fenfluramine, to heart disease and brain damage. Meanwhile, Weight Watchers reported a near doubling of class attendance in Britain and Europe with 1, 2, 3 Success, which assigns numbers to different foods and lets dieters compose their own menus within numerical limits.
At meetings across the U.S., 1, 2, 3 Success is already used. But until Weight Watchers determines the best time and tone for Fergie's pitch, it will have to rely on word-of-mouth marketing.
Before it's here, it's on the Bloomberg Terminal.
LEARN MORE