`Victims Of Our Own Success'
Political and trade worries roil Poland's economy
Karen Lowry Miller
Shopping in a working-class Warsaw suburb one Thursday evening, Monika and Daniel Art compared installment payment plans for living-room furniture. Their combined monthly salary of $1,150 as accountants does not allow for much saving. But that did not stop them from buying a $1,725 computer on credit in May, or a TV and VCR last year. "It's much easier this way," says Monika, 35. "You have it right away and you're happy."
The Arts are helping fuel a consumer boom that highlights the challenges Poland faces. Its economy, while slowing, is still growing at a robust 5.5% a year (chart). Foreigners invested a hefty $5.2 billion last year, up 108% over 1995, and inflation, now 14.5%, continues its slow fall from 70% in 1991. But ballooning consumer credit, up 80% so far this year, forced the central bank to jack up interest rates by two points, to 27%, in July. Worse, Poland's current account deficit could reach a worrisome 5% of gross domestic product, or about $6 billion, this year. "We are victims of our own success," says Finance Minister Marek Belka.
So were the Czech Republic and many East Asian countries. They have been humbled as investors, jittery about growing trade imbalances, bailed out of one currency after another in past months. Adding to concerns about Poland is uncertainty about what coalitions will emerge from elections scheduled for Sept. 21. The Democratic Left Alliance (SLD) party, leader of the reformist coalition that has governed Poland for four years, is running neck-and-neck with a center-right alliance led by the Solidarity trade union.
Not to worry, say Poland's supporters, who expect that the country's $20 billion in foreign exchange reserves will help insulate the zloty from attack. The reserves cover 200% of the annual current account deficit, plus long- and short-term government debt principal, notes Konrad Reuss, director of sovereign ratings for Standard & Poor's Corp. in London. And unlike the Czech and Asian states, which attempted to fix the value of their currencies to those of the U.S. and other trading partners, the Poles allow the zloty to fluctuate around a peg, and are gradually devaluing--by 22% against the dollar so far this year.
SKITTISH. Economic reforms should also continue. Both sides in the election hope to recruit the Freedom Union party led by Leszek Balcerowicz, the former Finance Minister and architect of shock-therapy reforms in the early 1990s.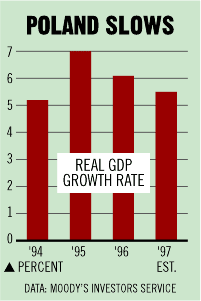 For now, preelection skittishness is keeping foreign investors away from the local-currency debt market. But the stock market has rebounded 16% since July, reversing a 20% slide that began in February. Although he warns that stocks will remain volatile, Glenn Wellman, London-based managing director of Credit Suisse Asset Management, says he is buying construction and consumer-goods companies.
Attracting investors is crucial: Poland needs $50 billion in infrastructure investment in coming years. "It took years to convince the rest of the world that we're not an underdeveloped country," says Henryka Bochniarz, a former Industry Minister. "We can't destroy that now." Many investors also pray that the Poles will stay the course.