U.S.: Here Comes Santa Claus, Here Comes Santa Claus
Strong job markets and fat wallets should keep the Grinch away
by
Christmas? Wait a minute. It's only September. But if you're a retailer, you're already laying in goods and thinking about merchandising plans. And any retailer that looks around at the economy right now has got to be mighty optimistic about business prospects for the holiday buying season.
Heading into autumn, the data paint the most vibrant picture of consumer fundamentals in not just years, but in decades. Amid the strongest labor markets since the 1970s, workers are shedding their job insecurities. As their confidence soars, they are shelling out big bucks for homes, cars, and other big-ticket items. All the while, low inflation is boosting buying power, and stock market gains are increasing the wealth and borrowing clout of many households. The best part: There is little on the horizon to suggest that any of this is going to change anytime soon.
After taking a break in the second quarter, consumers are back, and they are already fueling economic growth in the second half. Back-to-school buying in August was strong--the best in eight years, by some estimates. Buoyant home sales are lifting outlays for related goods. And car-buying is going gangbusters, helped by incentive programs (chart).
Sales of domestic and imported cars and light trucks rose to an annual rate of 15.6 million in August, above July's 15.4 million pace and up sharply from 14.5 million in the second quarter. Through August, the third quarter's sales rate was the highest in nine years. Auto sales are on track to add nearly a percentage point to third-quarter consumer spending, which appears to be growing at an annual rate of better than 4%.
THE REAL POWER BEHIND CONSUMERS is the increasing dynamism of the labor markets, as seen in the August employment report, and strong demand will continue to support gains in output and jobs in coming months. The August job data were skewed by the strike at United Parcel Service Inc., but they show that job growth remains strong, labor markets are tight, and the manufacturing sector is gaining momentum.
The UPS strike showed up in transportation services, where August employment dropped by 160,000. As a result, total payrolls in the month rose only 49,000. Excluding all strike effects, such as additional hiring by UPS competitors and the end of two other strikes in the auto and steel industries, the Labor Dept. said that overall payrolls would have increased by 192,000.
Moreover, Labor revised July employment up by nearly 50,000, resulting in a monthly gain of 365,000 jobs, the most in a year and a half. That means, so far in the third quarter, monthly job growth is averaging 279,000, faster than the first-half pace of 233,000. Even excluding recent boosts from education payrolls, which appear to be distortions reflecting Labor's seasonal-adjustment process, growth in private-sector payrolls is averaging 199,000 per month so far this quarter, not much below their 212,000 clip in the first half.
The most surprising news in the August job report was a 47,000 increase in manufacturing payrolls (chart). That was the largest monthly gain in seven years, and combined with an increase in the workweek, to 41.9 hours from 41.8 hours in July, it means that August industrial production will post a strong advance when the numbers come out on Sept. 16.
Robust hiring and output strongly suggest that the first-half buildup in business inventories was mostly intentional and that it is not crimping second-half production. Indeed, while factory inventories rose 0.5% in July, shipments jumped 1.7%, pushing the ratio of inventories to sales to a record-low 1.34. And the ratio in wholesaling retreated after June's sharp rise.
STRONG LABOR DEMAND has stretched the job markets unusually thin. While that's great for consumer spending prospects, it may be bad for inflation and interest rates. The unemployment rate edged up to 4.9% in August, from 4.8% in July, but if employment and the labor force continue to grow at the paces recorded so far this year, joblessness will drop further, close to 4.5% by yearend.
Such tightness is changing workers' perceptions of the labor market. In August, 13.7% of all unemployed people voluntarily left their last jobs, many of them on their way to another, perhaps higher-paying, job. That percentage has risen sharply in recent months to the highest level in seven years. Also, the trend in the average time that workers are unemployed is declining. These signs of greater turnover suggest that workers are increasingly secure about job prospects.
They also imply that upward pressure on wages will continue to build, at least gradually. In August, average hourly earnings of production workers rose 0.4%, and were up 3.6% from a year ago. That means August personal income probably scored another solid gain. But recent pay hikes in key industries bear watching. Manufacturing pay in August jumped 0.8%, while earnings in finance rose 0.9%, and pay in wholesale trade soared 1.1%. The inflationary threat from the combination of strong consumer-led demand and unusually tight labor markets may well be moving the Federal Reserve a step closer to raising interest rates later this year.
OF COURSE, PAY GAINS that are offset by productivity are not inflationary. And in the second quarter, nonfarm output per hour worked increased at a 2.7% annual rate, the best quarterly showing in 3 1/2 years (chart). The gain was revised upward substantially, from the 0.6% increase originally reported, reflecting the large upward revision to the quarter's gross domestic product. Still, that leaves productivity growth from a year ago at 1.2%, about the same as its trend rate since the expansion began in 1991, which is below the 1.4% achieved during the expansion years of the 1980s.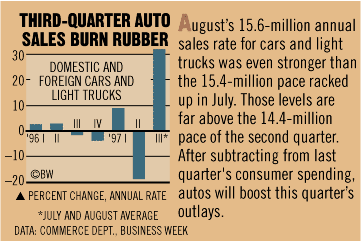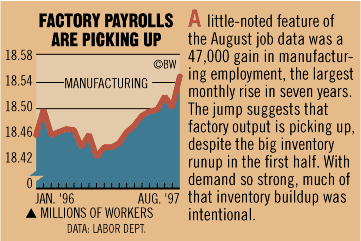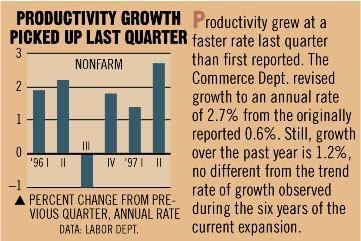 In a Sept. 5 speech at Stanford University, Federal Reserve Chairman Alan Greenspan left no doubt that he believes that the official numbers are understating productivity growth. However, he drew a key distinction between that point and another. "Nonetheless," he said, "the still open question is whether productivity growth is in the process of picking up. For it is the answer to this question that is material to the current debate between those who argue that the economy is entering a `new era' of greatly enhanced sustainable growth and unusually high resource utilization, and those who do not." This latter question is the one that is crucial to future policy decisions.
If the Fed does decide to raise interest rates, it would no doubt roil the financial markets, which currently appear somewhat inured to a status quo policy. However, a rate hike would not likely change the economy's bright outlook between now and the holidays. So as any retailer would remind you: Only 86 more shopping days 'til Christmas.
Before it's here, it's on the Bloomberg Terminal.
LEARN MORE