These Printers Are In Hot Demand
By
As a value investor, Jack Silver is all for overlooked stocks that have underpriced assets. And sometimes, he finds a stock with added appeal: a fast earnings-growth kicker. "That's when you are blessed," says Silver, who is head of SIAR Capital, a New York investor group. He now regards TransAct Technologies (TACT), which designs and makes printers used for coupons, receipts, and tickets, including lottery stubs, as one such gem.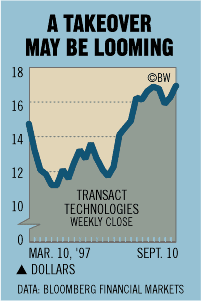 Silver believes that TransAct, which shot up to 17 a share, has one added lure. Because of the company's niche markets and speedy growth--earnings grew a heady 100% in 1996--"the likelihood of a takeover is quite high," says Silver, who has accumulated an 8.3% stake. TransAct, he notes, is a big cash generator with little debt and with a p-e ratio of 13.5, based on projected 1998 earnings of $1.25 a share on revenues of $90 million. This year, he expects TransAct to earn 80 cents a share on sales of $65 million, vs. 1996's 54 cents on $42 million.
TransAct is worth 25, figures Silver, judging from other recent deals. It has ties with original-equipment manufacturers, among them GTECH, the world's largest maker of on-line lottery system terminals, with which it has an exclusive $16 million contract to supply printers. Another is Japan's Okidata, which operates a printer and fax business worldwide. TransAct also supplies printers to the burgeoning kiosk markets that sell assorted products and services.
Before it's here, it's on the Bloomberg Terminal.
LEARN MORE