Putting Zing In Your Junk Mail
by
Sometimes, tiny companies can make sweet music. In the huge $84 billion direct-marketing industry, one pint-size operator--Marketing Services Group (MSGI)--has an impressive roster of blue-chip clients, including Citicorp, Walt Disney, and Unocal. Why do these giants need Marketing Services? For one, the company, whose shares have doubled in price since early March, to 5, makes marketing campaigns sizzle, notes Michael Shonstrom, an analyst at Neidiger/Tucker/Bruner, a Denver investment firm. Boston Group's Aaron Lehman also likes the company. He expects the stock to hit 12 in 18 months.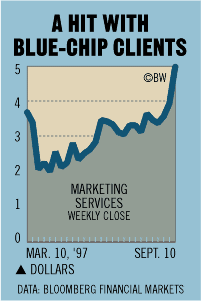 At Citicorp, part of Marketing Services' role is to introduce a campaign that will promote its home-mortgage-equity loan program. And with Disney, it has designed direct-mail marketing for its theatrical and consumer-products divisions. Using advanced systems and software, Marketing Services evaluates and redesigns its clients' direct-marketing programs. It provides a variety of services, including database management, telemarketing, and marketing via the Internet.
The company's growth, which took off in the quarter ended June 30, will surprise a lot of people, says Shonstrom. After a loss a year ago, he says, it will post fourth quarter earnings of 4 cents a share. For all of fiscal 1997, he expects a 42 cents loss. But 1998 will produce 7 cents on sales of $34 million, he says. The big swing will occur in 1999, projecting 36 cents on sales of $40 million, figures Shonstrom. CEO Jeremy Barbera has hired William Blair & Co. to finance acquisitions.
Before it's here, it's on the Bloomberg Terminal.
LEARN MORE