Payoff Time On The Continent
But taxes and rigid labor laws threaten the nascent recovery
by
A funny thing happened this summer to Franco Tato, chief executive of Italy's giant electric utility Enel. In May, Tato noticed an upward spike in electricity demand, a mirror of economic activity and one that had been depressed in Italy for more than two years. At first, Tato suspected a statistical fluke. But each month since then, demand has been up sharply. The Enel head now predicts that by the end of this year, Italy will be consuming over 4% more electrical power than it did in 1996--the largest jump in years. "The recovery is here, and it's a lasting one," says Tato.
Across Europe, economies are turning on the juice. After the most intransigent downturn since World War II, companies and consumers can finally look forward to brighter times (chart). From German car sales to Swedish home prices to Spanish consumer confidence, almost all economic indicators are pointing north. Says Jean-Paul Hologne, economist at Brussels' Banque Bruxelles Lambert: "After years of austerity, people are seeing light at the end of the tunnel."
DEREG DIVIDEND. So far, surging exports from France and Germany have been the main engine of recovery, even as demand at home has remained depressed. Those export earnings, combined with aggressive corporate restructuring, are paying off in healthy profits. If companies begin to invest in their home markets, the crushing 11.2% jobless rate on the Continent will ease, and stronger consumer demand will give the recovery more muscle.
That's a big if. The record postwar unemployment numbers in Germany announced on Sept. 9 show just how stubborn long-term joblessness has become. Much now depends on whether Europe's leaders have the political will to reform rigid labor laws that discourage hiring even in good times. And companies are still waiting for corporate tax rates as high as 54% to fall. "It's the next few months that will really be crucial," says Marco Tronchetti Provera, CEO of Italy's $6 billion tire and cable giant Pirelli.
But European governments have clearly done a few things right. Already, in Spain and Italy, unemployment has slowly begun to drop--in large part thanks to deregulation. From the liberalization of European air transport last April to next January's opening of the Continent's $103 billion telephone market, once-sleepy sectors are starting to boom. This year, for example, the Association of European Airlines expects the newly competitive European air travel market to grow by 10%. In telecommunications, Salomon Brothers Inc. estimates the total number of European cellular-phone subscribers will top 50 million at the end of this year--up from barely 14 million just three years ago.
Even in Europe's depressed industrial heartland, layoffs may finally be leveling off. Although the auto sector--the biggest employer--faces overcapacity and a mature market, "profitability in the industry is on the mend just about everywhere in Europe," says John Lawson, European auto industry expert at Salomon Brothers International Ltd. in London.
But higher profits won't necessarily translate into large-scale job creation--especially in Germany, where 2.4 million jobs have vanished since 1991. Despite the export boom, Munich-based economic consulting group IFO estimates that German industrial companies will actually cut their workforces by 3% this year and a further 1% in 1998.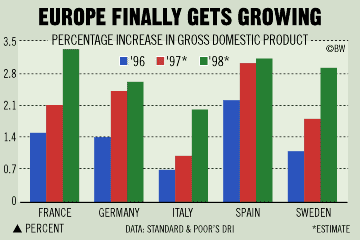 The trend could be reversed if Europe relaxes its labor regulations. For example, Italy's new Treu Law, about to go into effect, adds badly needed flexibility by legalizing temporary hires and breaking the state monopoly on employment agencies. Italians hope the result will resemble the 3% drop in joblessness after Spain's center-right government passed similar laws in April.
Until now, economic improvement in Europe has been mostly due to tough slogging by corporate managers, and growth has come at workers' expense. "Europe's recovery is still a fragile creature," cautions Francesco Caio, CEO of Italian white-goods giant Merloni Elettrodomestici. But if the numbers keep looking good, politicians will have more room to push through reforms that give the recovery real staying power--and Europeans something to cheer about.
Before it's here, it's on the Bloomberg Terminal.
LEARN MORE