Latin America Weathers The Storm
The bolsas are bouncing back, and bargains abound
by
Latin American markets shivered when Asia's currency crisis erupted in July. With Mexico's 1994 peso devaluation a not-so-distant memory, worries mounted that the Asian turmoil would spark a new Latin foreign-exchange rout. So far, the currencies of the three largest economies--Brazil, Mexico, and Argentina--have withstood the storm and are expected to remain stable. But many stock market investors bailed out at the first sign of stress, pushing Latin equities down 9.8% in August. To some canny stock-pickers, the drop was an irresistible invitation to swoop down on the region's bolsas in search of bargains. "We're very cautious about Asia because there's a lot to be sorted out," says Leila Heckman, chief global asset allocator for Smith Barney Inc. in New York. "But we continue to like Latin America and the values there."
BIG PLAYS. Indeed, Latin markets have rebounded smartly since August's setback. Investors say they're encouraged by forecasts for 6% growth in Mexico's gross domestic product and 7% in Argentina this year. Brazil, whose GDP should increase 3%, is the region's biggest question mark. Analysts are concerned about the current account deficit, which could surpass 5% of GDP in 1998 and eventually unsettle the country's currency. Those fears have prompted many regional fund managers to shift 5% to 10% of their portfolios out of Brazil and into Mexico, says Marco Melo, equity strategist with Rio de Janeiro-based investment bank Bozano, Simonsen.
One reason why investors remain high on Mexico is that price-earnings ratios are the most reasonable in the region, at 14.9 times estimated 1997 earnings. Two big plays among Mexico mavens are banking and consumer stocks. By yearend, Mexicans can look forward to their first real wage increases since 1994, which should lead to a surge in consumer spending. With that in mind, Jay Pelosky, Latin America equity strategist at Morgan Stanley, Dean Witter, Discover & Co., likes supermarket chains Cifra, in which Wal-Mart owns a controlling stake, and Organizacion Soriana. He is even more enthusiastic about Mexican banks, which will be "the single biggest beneficiary of the region's economic recovery." His top pick: Mexico's leading full-service lender, Banco Nacional de Mexico (Banacci), has a huge market share U.S. banks "would die for." He also recommends the American depositary receipts of Telefonos de Mexico, whose shares were among the most hard hit during the sell-off. He expects Telmex earnings to take off and propel its stock up 30% to 40% from its current price of $47.
Even as they move money into Mexico, investors are hardly abandoning Brazil, despite recent volatility in the country's market. During the first half of this year, when the Sao Paulo bolsa rose 80%, investors couldn't go wrong. Then, after Thailand's July 2 devaluation, Latin American markets, led by Brazil, dropped immediately in response. Brazil's market has remained turbulent, dropping an additional 18% in August before staging a recovery. Worries about the stability of the real--and concerns that the Federal Reserve will raise U.S. interest rates--are expected to continue jerking stock prices back and forth for the next several months.
Lawrence Krohn, Latin America equity strategist for UBS Securities, believes the Brazilian central bank's $63 billion stockpile of hard-currency reserves is enough to ward off speculators. But the recent volatility has forced stock pickers to become more selective. Morgan Stanley's Pelosky prefers government-controlled telecom companies and utilities. These stocks also were battered in the aftermath of the Asian crisis as investors, looking to raise quick cash, sold their shares en masse and drove prices down to fire-sale levels. Now, investors are moving back into Telebras, Brazil's national phone company, which is a leading candidate for privatization.
OIL PLAY. Bargain hunters will have to look a bit harder for opportunities in the smaller, less liquid markets of Argentina and Chile. Both countries are winning praise for strong macroeconomic fundamentals, though analysts say the equity markets are expensive. John J. Mullin, Latin America equity strategist for Salomon Brothers Inc., likes YPF, the big oil company, which is attractively valued at 14 times estimated 1997 earnings. He also believes it is one of the best Latin plays on rising oil prices.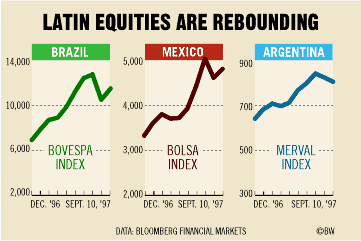 Some of the smaller Latin markets offer more inexpensive stocks--but are rough on the nerves. With forecast 1997 p-e ratios of 12.9 and 14.3, respectively, Colombia and Venezuela are particularly attractive, says Smith Barney's Heckman. But a further decline in the peso, which has already dropped 24% this year, could drag down the Bogota market. Instability, always a factor, has increased with the murder in early September of four local political candidates. Venezuelan GDP grew at a higher-than-expected 4% rate in the first half, boosting the short-term market outlook. However, the country lags behind most of the region in economic reforms.
As the summer's currency crisis proved, even the most successful emerging markets can be rocked by disasters thousands of miles across the Pacific. Those crises may unsettle Latin America again. But many investors continue to be willing to bet on the region's rebound. "If you invest for a couple of years, you'll make money," says David Gotlib, executive director of Sao Paulo fund manager Linear Investimentos. But you might also have some fidgety moments while you wait.
Before it's here, it's on the Bloomberg Terminal.
LEARN MORE