Is Medicare Abuse An Epidemic?
The feds' expanding probe zeroes in on key player Olsten
I. Jeanne Dugan
On the morning of July 16, Olsten Corp.'s meteoric rise to the top of the home health field hit a dubious milestone. FBI agents walked into 22 Florida offices Olsten manages for troubled hospital giant Columbia/HCA Healthcare Corp. Shaken employees were asked to step from their desks and forbidden to leave without giving a name and home phone number. Hours later, the agents drove off with hundreds of documents, diskettes, memos, training manuals--even Christmas card lists.
With that search, the $3.4 billion company best known for supplying temps to pinched offices suddenly found itself caught up in a massive federal probe of one of the nation's fastest-growing industries--caring for elderly, sick, and disabled people at home. Led by Chief Executive and Chairman Frank N. Liguori and Robert A. Fusco, the president of Olsten's health-care division, the once tiny Melville (N.Y.)-based staffing company moved rapidly into home health care over the past six years. Along the way, it became the biggest player in what it thought would be a lucrative market.
HIGH PROFILE. But now Olsten is discovering the downside of being No.1. Late last year, Attorney General Janet Reno announced major funding to investigate alleged fraud and abuse that the government believes is financially crippling the Medicare program. Home health care has become a key focus because of its sheer growth: Since 1990, Medicare spending on home care has soared from $3.3 billion to $16.7 billion. Investigators allege that providers took advantage of murky rules and lax oversight to overbill for home care. By putting Olsten under the microscope, investigators hope to gain insight into the industry and send out a powerful message. "Home health is the next big area of investigation," says a federal prosecutor. "There's no way they're going to come out of this without a close examination of their business practices."
Indeed, Olsten's troubles go beyond Columbia. After the search of its Florida offices, a federal prosecutor confirmed that the FBI was seeking evidence for its Medicare probe of Columbia/HCA, which had hired Olsten to manage more than a third of its 550 home-care agencies. But sources close to the investigation say the Department of Health & Human Services and the Justice Dept. have now begun to look into whether Olsten itself is profiting too much from taxpayers.
Liguori and Fusco declined requests for interviews. Olsten spokesman David R. Fluhrer confirmed that HHS and prosecutors have asked for information regarding Medicare billing practices but wouldn't comment on specific allegations. "We are cooperating fully," he says. Two high-level sources at Olsten say it has hired outside attorneys and launched an internal review. Columbia spokesman Jeff Prescott says it too is cooperating.
The outcome holds deep ramifications for Olsten's management and balance sheet. Olsten owns 500 home health-care agencies nationwide and manages 450 more. Altogether, home health care now pulls in $1.6 billion, about 45% of Olsten's overall revenues. Nearly a third of those revenues come from Medicare. If wrongdoing is found in how Olsten billed the government, it could face hefty fines and even the suspension of its Medicare license. And however the investigation turns out, one thing looks likely for Olsten and its rivals: The flood of Medicare money that has fueled their growth will be sharply cut.
The scrutiny is already casting uncertainty on the health-care empire Fusco and Liguori built at warp speed. When Liguori took the helm in 1990 from founder William Olsten, the company got most of its $800 million in revenue from supplying temps. But as the early-1990s' recession took hold, competition pinched margins. So Liguori, a CPA who had risen from Olsten's accounting ranks since the early 1970s, set a new course.
PIONEERS. He began in late 1990 with the purchase of Upjohn's home health division, a deal that won wide praise on Wall Street. To lead the charge, he brought back Fusco, a respected ex-Olsten exec who had left to run Protocare Inc., a Massachusetts-based home care company. A flurry of smaller buys preceded Olsten's biggest coup: its 1993 purchase of Lifetime Corp., which boasted $1 billion in revenues. In one swoop, Olsten became the nation's biggest home health company--and one of the single largest recipients of Medicare money. "They were the forerunners," says Joshua Nemzoff, a hospital merger and acquisition adviser. "They were buying agencies at a time nobody else was."
Certainly, the strategy made sense. The aging population ensured growing demand for home care. And cost-sensitive hospitals began discharging patients earlier, leaving many in need of assistance at home. Medicare itself encouraged the shift. To drive down its own hospital costs, Medicare agreed to reimburse home-care providers fully for their costs. The open-ended structure fueled an explosion in Medicare-funded home care.
Indeed, if Liguori and Fusco saw a gold mine, others did too. The number of new agencies has doubled, to 25,000, since 1992. "Suddenly, there were ankle biters everywhere," says Jeremy M. Jones, CEO of rival Apria Healthcare Group Inc.
Worse, hospitals began adding their own home health agencies. One in particular threatened Olsten most: Columbia/HCA. In early 1994, Columbia offered to buy out many of Olsten's offices in Florida, according to several sources then at Olsten and Columbia. Liguori first turned them down, but Olsten realized it had little bargaining power. With its large network of doctors, Columbia had the power to funnel patients away from Olsten. After five months, Olsten agreed to sell 22 of its Florida agencies. As part of the deal, it would continue to run those offices--and 15 more owned by Columbia. Moreover, Olsten would manage all the agencies Columbia bought from then on. "For Olsten, it was a survival tactic," says Katheen Dodd, president of Corridor Group, a home health-care consulting company.
Today, Olsten runs 150 agencies for Columbia--and some 300 more for other hospitals and health-care companies. Although this management business accounts for just 5% of Olsten's health-care revenues, it's lucrative. A former high-ranking executive from Columbia, as well as one from Olsten, say that Columbia paid Olsten roughly double its actual costs for providing home care. Altogether, says the ex-Columbia exec, Olsten handled more than 4 million home visits annually for Columbia, at $10 to $30 a visit. "If you were effective at those rates, you could easily maintain 50% operating margins," the ex-exec says. "A lot of people at Columbia said they were paying Olsten a ton of money to manage, and what were they getting?" Moreover, the ex-exec says the deals were unusually long--five years, rather than the typical three. Olsten declined to discuss the fees, as did Columbia.
Why the apparent generosity? Two sources close to the inquiry say government investigators are looking into whether Olsten sold the businesses to Columbia for less than they were worth, then recouped the full price by collecting inflated management fees. Columbia, in turn, was reimbursed a portion of those fees by Medicare. A high-ranking Olsten source denied the prices were low. Prescott says they were based on "subjective" estimates by investment bankers.
Elsewhere, investigators have begun to look more broadly at how Olsten billed Medicare for services provided by its company-owned home-care agencies. Under Medicare rules, home-care agencies are reimbursed fully for their costs. That includes overhead, so Olsten bills Medicare for a share of such costs as rent, salaries, and phone bills.
But investigators want to know whether Olsten and other home-care providers shifted non-Medicare overhead to the government's tab. Former Olsten executives acknowledge it was common industry practice. "It wasn't illegal; it was a loophole," said Linda Duval, a former assistant vice-president of Olsten's health division and now a partner in a Washington pediatric home health agency. "They're a very ethical and moral company. But to make money, they had to push the envelope."
HAUNTED. Among the overhead costs most likely to come under scrutiny are Olsten's marketing expenditures, as well as the salaries of its local agency heads. The reason: Medicare prohibits reimbursement for any activities designed to boost volume. Sources close to the case say the government has subpoenaed records--such as personal address books and calendars--that could show how much time Olsten's agency heads spent drumming up business. Olsten marketing materials were also seized from its Florida offices, according to court documents obtained by BUSINESS WEEK.
Other deals, too, have come back to haunt Olsten. The company's $300 million, June, 1996, purchase of Indianapolis-based Quantum Health Resources Inc. gave it a major stake in the growing market for "infusion therapy"--a specialized in-home treatment for critically ill patients. But affidavits filed in court in New Mexico show that federal prosecutors are investigating whether the unit gave hemophilia patients gifts ranging from airline tickets to magazine subscriptions to accept excess treatment. The documents also allege that Olsten gave gifts to the head of hemotology at the University of New Mexico hospital. The doctor, T. John Gribble, killed himself days after his office was searched. His widow, Geraldine Gribble, said he denied wrongdoing in a suicide note.
Olsten's Fluhrer says "most" of the activities in question precede its purchase. But the affidavits allege the practices were in effect until April, 1997; a prosecutor says the probe is ongoing.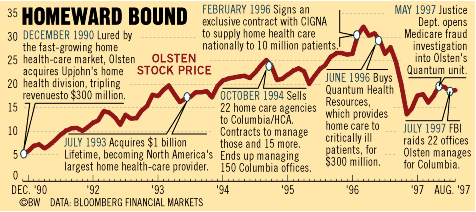 Ironically, for all the recent regulatory trouble it has brought, Olsten's move into health care has not become the financial antidote Liguori sought. Although sales grew 20% in 1996, profits for the year slid by more than a third, to $55 million. And since hitting a high of 32 in early 1996, Olsten shares have fallen to 19. "Olsten bit off more than it could chew," says John Husic, a former Olsten chief financial officer and franchisee who remains a major shareholder. While Olsten today is better positioned than any rival to capture home-care contracts from managed-care providers nationwide, it has yet to prove being No.1 can assure success.
Before it's here, it's on the Bloomberg Terminal.
LEARN MORE