Canada: A Rate Hike Won't Slow This Juggernaut
With domestic demand firing on all cylinders, thanks to very low interest rates, the Bank of Canada is close to raising rates for the second time this year. Canada's real gross domestic product rose at a 4.9% annual rate in the second quarter, the strongest advance in 2 1/2 years, and economists now think second-half growth will exceed 4%. Growth is faster than the BOC expected, and it is absorbing excess output capacity more rapidly than anticipated.
With long-term interest rates having fallen from more than 9% in 1994 to only 4.5%, and with confidence in the job markets rising, consumer spending on housing and big-ticket goods such as autos, furniture, and appliances is leading the growth surge. With new-home inventory at a 10-year low, homebuilding is expected to rise 19% this year. Capital spending is up 20% from a year ago, and inventories generally are skimpy relative to demand. In July, a record 19% of factories said inventories were too low.
The economy's vigor is taking up the slack in the job markets. Employment in August rose by 55,000, led by services, transportation, communications, and manufacturing. Since January, payrolls have jumped by 277,000, the largest six-month gain in three years (chart). The jobless rate dipped to 9% last month, down a percentage point from a year ago and the lowest in seven years.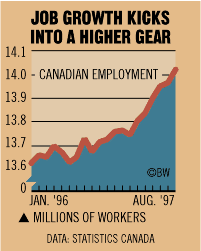 A key problem: Strong demand is sucking in imports. The trade surplus is only half its year-ago level, and the current account, which includes services and certain financial flows, is in a deficit, putting downward pressure on the currency. And the weak Canadian dollar has made monetary policy even more accommodative.
With overnight rates currently at 3.5% and July inflation at only 1.9%, real rates are a low 1.6%, compared with the 3% long-term average. With growth so strong, the economy will use up its spare capacity by the end of next year, or before, and the BOC will move policy gradually to a more neutral stance before that happens.
Before it's here, it's on the Bloomberg Terminal.
LEARN MORE