Budapest Bids For Its Former Glory...But Is Getting Mugged By Gangs
by
Budapest at the turn of the century, dual capital of the Austro-Hungarian Empire, stood at its zenith. Thirty years of prosperity and development had produced one of Europe's great cities, a modern financial and cultural center overflowing with grand architecture and heady confidence.
Today only some of the architecture survives. Almost everything else that was Budapest at its peak was destroyed by a century of catastrophes, beginning with World War I. But now, after nearly a decade of postcommunist momentum, Budapest is on the way back.
One three-year project has replaced five kilometers of tram tracks, water mains, and roadway along the Grand Boulevard in the heart of downtown. The Continent's oldest subway line, built in 1895, has been meticulously restored. The pedestrian shopping district along Vaci Street has been doubled in length. The city has begun revitalizing several theaters in the "Pesti Broadway" section of town, and next year should begin work on a new, $650 million subway line, the city's fourth.
Gabor Demszky, the energetic, 45-year-old mayor, deserves much of the credit. For seven years he has steered the city through difficult waters, cutting spending and aggressively pursuing financing for development. "I think this is only the start," he brags nonchalantly from behind a coffee table in his spacious City Hall office. "We are before the big boom." He sees Budapest becoming the economic capital of Eastern and Central Europe.
Elemer Tertak, president of Daewoo Bank Hungary, says the city is already a financial center on the frontier of less developed economies. "The role that Vienna had for a long time has easily shifted to Budapest," he says.
If the city has come a long way, so has the mayor. Fifteen years ago, Demszky was dodging communist police as he distributed dissident literature from the backseat of an old Lada. He suffered regular arrests and jail-cell beatings. Now, he is planning to run next year for a third term. Although sometimes awkward and timid in public, Demszky is image-conscious and neatly packaged with the help of American advisers. Tall and dark-haired, he comes across as honest, clean-cut, and Western in a political sea of corrupt, graying men.
HIGH RANKING. But while his old anticommunist credentials are widely respected, not everyone likes the current product. Gyorgy Farkas of the Budapest Chamber of Commerce believes the mundane but crucial details of development get lost under Demszky. He points out, for instance, that an impressive new bridge over the Danube that opened with great fanfare in 1995 still lacks tram lines and key traffic connections. Demszky's office asserts that a plan to solve the complex traffic ills will soon be put into place.
Such criticisms certainly haven't hurt Demszky in the polls. He is the only nonnational political figure to even show up on countrywide popularity surveys, where he holds a 64% approval rating, third-highest among all public figures. So Demszky looks on track to pursue his master plan well into the next century.
Budapest's transformation has a dark side: an explosion of organized crime. Racketeering and extortion rings, many run by Russian, Ukrainian, and even Chinese gangs, have penetrated deep into the local economy and practically dominate nightlife business.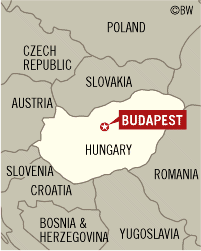 Entrances to mainstream nightclubs and upscale bars are invariably manned by short-haired thugs whom management is forced to employ as "security." The chic shopping area of Vaci Street has been dubbed "Vice Street" by a local English-language newspaper. The situation reached a crisis point last winter with a turf war of late-night firebombings, grenade attacks, and shootings that left three dead. After weeks without a major arrest, the government fired the national and Budapest police chiefs.
But the firings have done little to calm Budapesters, especially small businesspeople who now fear a different kind of knock in the night. Says Farkas: "Gangsterism is more than just a fear now, it is a real threat." If Budapest is to enjoy a new Golden Age, the threat will have to be dealt with before investors are scared off.
Before it's here, it's on the Bloomberg Terminal.
LEARN MORE