All Het Up Over Betel Mania
Jonathan Moore
Shrouded in mist after a rain, the steep mountains near the central Taiwanese town of Puli look like a scene from an old Chinese painting. But instead of pines and bamboo, the trees crowding the lower slopes are betel nut palms, and they are making local farmers rich. Wang Sheng-yi's family has been farming the nut for 25 years and making a good living at it. "This is the best area for growing betel," Wang says.
Betel nut is found all over Southeast Asia, but nowhere is it more popular than in Taiwan, where some 3 million people, 14% of the population, chew it. Most are farmers or laborers who like the wired feeling they get. Cabbies and truckers chew betel nut to help stay awake at night, and now, professionals and college students are joining the "red-lip tribe." Watch where you step--little puddles of the distinctive brown-red juice are a common sight on city streets and sidewalks.
"BIG HEADACHE." The spitting is a nuisance, but there's a more serious downside. Health authorities say betel nut causes oral cancer. And agricultural officials blame the shallow-rooted palms for soil erosion on mountain slopes. "It's really a big headache," says T.Y. Ku, director of the Council of Agriculture's food department. "We'd like to convince people not to chew it."
The government is in the midst of an antibetel campaign, including TV ads and public pronouncements. It started five years ago when oral cancer was identified as one of the 10 deadliest forms of cancer in Taiwan. Agencies stepped up the attack after a typhoon a year ago caused widespread soil erosion that officials said was exasperated by betel farms. Now, Taipei will tax betel nut vendors and require them to include a health warning on boxes. The Education Ministry and the Bureau of Public Health also are launching ad campaigns.
The betel's economic and cultural clout make it a tough nut to crack. The growing market supports a lot of farmers. Their $485 million annual haul makes betel Taiwan's second-largest cash crop, after rice. The retail value is much greater--$3 billion or more. Output has nearly tripled in 10 years, to some 160,000 metric tons.
Wang is in a defensive mood on the day I visit. After a tour of his farm and huge warehouse, Wang and his brother, Wang Chiu-chen, 60, talk about business over tea and betel nut, offered from a box. They have 6,400 trees on 10 acres. The families share a large, comfortable house. The brother has a Volvo with a sunroof and cellular phone.
Money and easy, low-maintenance farming are causing farmers to replace rice and other crops with the "green pearls," as betel nuts are sometimes called. The land devoted to betel nut has increased fivefold in the last decade, to about 140,000 acres. The change upsets agricultural officials. Under a new soil-conservation law, they're fining farmers who grow betel on steep hillsides, but that does little good. "Betel nut is out of control," says Chen Yi-feng, an agricultural professor at Ching Yi University. "The government really cannot resolve this problem."
PROTEST MARCH. Perhaps not, but farmers like the Wangs feel threatened. Wang Sheng-yi claims he's suffering this year because the market price of betel nut is down and competition up. The families' gross was $209,000 several years ago, but this year, they'll take in just $56,000. Wang also blames antibetel publicity for discouraging chewers. "The government doesn't understand betel nut," he says. "Betel nut actually holds the soil very well, better than tea. The roots go deep down." And of course, he knows of no one who has developed cancer from chewing. "There's no such thing," he says, popping a nut into his mouth.
About 10,000 farmers and vendors marched in Taipei in early June to make the point that a lot of people could go hungry. Wang claims 6 million people depend on betel nut for their living. That means 3 in 10 on this island--but the government puts the number at about 500,000.
The fruit itself looks benign, a small green and white nut. It's split in the middle, with a gob of sweetish, rust-colored lime paste to balance the sharp, acidic flavor. The Taiwan custom is to chew the nut green from the tree, although in India and elsewhere, it is dried first. Offering someone a chew here is considered a nice way to make friends. At first, you're reluctant to put the acrid-smelling goo into your mouth. But it's not so bad once you get used to it. The mild buzz, something like a strong alcoholic drink plus caffeine, lasts just a few minutes.
Wang Chui-chen chews about 100 nuts a day. "It's good for the brain; it keeps you smart," he says. But it's not so good for the teeth, he admits, smiling to show a few brown-stained stubs.
The nuts are sold mostly in roadside stalls by young girls in short skirts. A pack of 25 nuts costs about $3.50. The ubiquitous stands are a kind of cultural icon in Taiwan. Many are glass-fronted from floor to ceiling for maximum leg-exposure to lure passing truck drivers.
Li Chia-ni, 17, has worked a busy road outside Taipei for several months. She admits it can be dangerous work when she's alone, although the worst she has endured is the occasional male customer exposing himself. Premier Lien Chan has criticized the stands for "fanning licentiousness," and police have begun to harass stand-owners, issuing tickets for being too close to the road and other violations.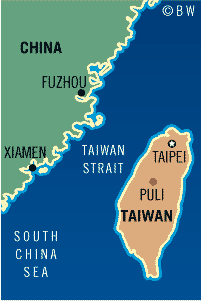 Li goes to school at night and works in the daytime, making about $865 a month, better than she could do waiting tables. "And it's much more relaxed," she says. One hears betel-nut girls can be quite open-minded when it comes to customer service. Any prostitution? "Not around here," Li says. "But I hear there are some like that in Wuku." Wuku is an industrial suburb of Taipei with more than its share of truck traffic.
Li's boss, Hong Hsiao-hui, who works in a stall nearby, has a mouthful for government officials. "We depend on this stand to eat," Hong says. But despite official attempts to discourage the betel nut industry, Hong and the Wangs needn't worry about an outright ban on betel nuts. They're just too popular.
Before it's here, it's on the Bloomberg Terminal.
LEARN MORE