The Sweet Sound Of Success For Creative Technology
The SoundBlaster master tightens its grip on the PC audio market
By
Sim Wong Hoo calls 1995 his "baptism in blood." He had turned his Singapore-based Creative Technology Ltd. into a $1 billion sensation with the SoundBlaster, a circuit board that brought stereo sound to personal computers. But his efforts to find the next hit were floundering. Red ink mounted, its stock crashed, and executives bolted.
Suddenly, Sim is cruising again, posting record profits and sitting on a hoard of cash approaching $500 million, part of which he is using for U.S. acquisitions. With profits expected to surge by 37% over the next two years, Creative's stock has rebounded from $4 in 1995 to over $21. Crows San Francisco venture capitalist and Creative board member Lip-Bu Tan: "Sim is the comeback kid."
The key to Creative's revival is the source of its initial success: the SoundBlaster. Market analysts and even Creative executives had assumed the popular add-on card, launched in 1989, would be usurped by cheaper clones and new technologies, such as computer chips embedded with multimedia functions.
Yet consumers still prefer the SoundBlaster. By yearend, Creative expects to sell 10 million units of its latest version, the $99 AWE64. In the year ended June 30, Creative had record profits of $167 million on revenues of $1.2 billion. Creative has an installed base of 45 million users and the loyalty of computer-game aficionados and big retailers. As a result, its share of the PC audio business has risen from 40% in 1995 to over 60%. That makes Creative "the king of retail multimedia," says multimedia analyst Omid Rahmat of market research firm Jon Peddie Associates.
Emboldened, Sim again is diversifying. But he's determined not to repeat mistakes of the early '90s. A push into CD-ROM drives was a disaster. Licensing most of its technology, Creative couldn't keep pace with the market. In 1995, it wrote off $22 million in CD-ROM inventory and shut its drive plant. Thrusts into video conferencing and modems fizzled. Divided over strategy, co-founders Chay Kwong Soon, Creative's president, and Ng Kai Wa, the chief technologist, resigned. That left Sim, the chairman, in control. "We felt only one person could lead the company," he says.
GOING DIGITAL. Creative revamped its management and focused on adding multimedia technologies that complement its strength in audio. Its investments include stakes in a designer of chip sets for DVD players, a high-end stereo speaker maker, and a software firm specializing in speech recognition. More acquisitions are expected in chip-design companies.
The plan is to pump out an array of multimedia PC peripherals and software for consumers. After buying a 19.5% stake in Cambridge SoundWorks Inc., Creative on Aug. 19 introduced high-performance speakers for PCs priced at $99 for a three-piece set. The big push will be in DVD, the next generation in digital multimedia. Japanese companies will likely dominate the DVD home entertainment market, but Creative hopes to set the standards for PCs. This Christmas, it will launch a $379 DVD package that will include a DVD drive capable of playing a 133-minute movie, cables, software, and a circuit card.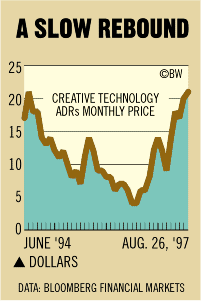 There are still plenty of challenges. Intel Corp.'s Pentium MMX microprocessor makes it possible for software to perform many functions of a SoundBlaster card, for example. And with DVD, it's just a matter of time before the drive and related software will come bundled inside most PCs, as CD-ROMs do, cutting demand for Creative's DVD kits.
Still, analysts say few rivals can match Creative's brand recognition and distribution. PC buffs prefer add-on cards for their better performance, says Rahmat, and they're tired of adapting to new PC products. "Creative has a franchise in audio that is pretty much unbeatable," he says, "and audio isn't a bad place to be right now." That's why Sim isn't straying far from the field he pioneered.
Before it's here, it's on the Bloomberg Terminal.
LEARN MORE