Reader's Digest: A Brighter Page?
by
Reader's Digest (RDA) has come to life in recent weeks. Several key market players have been snapping up shares as the stock took a dive from 43 earlier this year to the low 20s.
"The stock has dropped so precipitously because the market has lost faith in management," says money manager Mark Boyar. Soggy sales worldwide due to fierce competition have crimped earnings. Fiscal 1998 earnings are expected to be way below this year's figure of $1.24 a share. In the fourth quarter ended June 30, the company posted a loss of $22.8 million, or 22 cents a share, vs. earnings of $45.9 million, or 42 cents a year earlier.
But the stock has edged up to 29, primarily due to the buying by some savvy value players, including Boyar and Mike Price, who runs Franklin Resources Mutual Fund. They think that based on assets and a unique global consumer franchise, the stock has become way undervalued.
The board, says Boyar, has three options that may help clean up the mess: (1) Sell the entire company at a huge premium; (2) sell an equity stake in the company to raise funds to bring an earnings turnaround; or (3) pursue a more aggressive restructuring, including eliminating the dividend.
First the board must find a chief executive to replace James Schadt, who abruptly resigned on Aug. 11. Finding the right CEO will spur an immediate rise in the stock, says Boyar. The board has asked former CEO George Grune to temporarily assume the post.
Because of the shares' voting structure, a hostile takeover isn't likely. "But a unique property such as Reader's Digest would invariably garner a premium price if sold," says Boyar.
The company has worldwide circulation of 27 million. Boyar values the magazine at $770 million, or $7.25 a share. Its largest unit--books and home entertainment products, including the direct-mail business--is valued at $3.5 billion, or $31 a share. Total assets are worth $4.9 billion, or 46 a share, Boyar figures.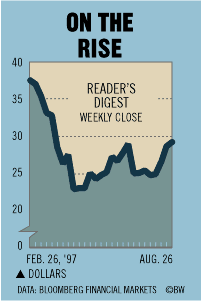 He says selling the company would address the concerns of shareholders and the charitable trusts dependent on Reader's Digest for funds. Rather than make do with the company's poor returns, says Boyar, the trusts could get cash that would allow them to diversify their investments. Shareholders would also benefit from the premium the company could get when sold.
Boyar believes the company's board, which includes former Defense Secretary Melvin Laird and Chase Manhattan Chairman and CEO Walter Shipley, will act in accordance with the highest standards of corporate governance.
Before it's here, it's on the Bloomberg Terminal.
LEARN MORE