Now Can Huizenga's Republic Burn Rubber?
The auto retailer has the go-ahead to buy Toyota dealerships
by
The truce between Republic Industries Inc. and Toyota Motor Sales USA Inc. wasn't even 24 hours old, and already Bob Navarre, owner of Libertyville Toyota, was contemplating the next challenge. The Aug. 25 agreement, in which Toyota dropped its opposition to Republic's pending acquisition of a dozen Toyota and Lexus dealerships, clears the way for Navarre to sell his dealership outside of Chicago to Republic for $30 million. "The issue now is customer satisfaction and performance" as part of Republic, he says. His new parent, he says, "has an outstanding game plan for the car business."
Now all Republic has to do is prove it. The agreement with Toyota removes a substantial roadblock in Republic's plans to remake the auto-retailing industry, says automotive analyst Jordan Hymowitz of Robertson, Stephens & Co. Republic's stock, which had lost 34% of its value since Toyota's offensive in April, rebounded 7.5% on Aug. 26 to close at 25 1/4. Now Wall Street--and the auto industry--will be watching to see if Co-Chief Executive Officers H. Wayne Huizenga and Steven R. Berrard can do what they have promised: overhaul auto retailing the way they remade the video business with Blockbuster Entertainment Corp.
Republic's plan, which Huizenga and Berrard launched in 1996, involves buying top-notch dealers in key markets where it also plans to open AutoNation used-car superstores. Integrating new- and used-car businesses, as well as a string of car-rental companies, is intended to produce efficiencies in managing inventories and service and provide an array of retail, lease, and rental options to build customer loyalty. But as long as Republic could not buy dealers handling Toyotas and Hondas, two top-selling brands, it was hard to tell if the plan really would pay off.
So what now? Republic has already proven that its sheer size--122 new- and used-car outlets--give it the mass to cut costs for insurance, advertising, and other overhead. Bill Wallace, who sold his Delray Beach (Fla.) Ford dealership to Republic early this year, says he has cut his media costs in some cases by 40% because of Republic's buying clout.
Still, some on Wall Street harbor doubts whether the efficiencies Republic seeks will be enough to generate big earnings growth in a low-margin, highly competitive business. Republic has plenty of imitators, and even Detroit auto makers, including Ford and Chrysler, are experimenting with superstores of their own. At 25 5/16, Republic trades at about 33 times projected earnings. "At current prices the stock offers little margin of safety," says Robert Friedman, equity analyst with Standard & Poor's.
NIXED DEALS. Investor enthusiasm is critical, since Republic uses its stock to fund much of its expansion plans. Republic has snapped up 108 dealerships since entering the new-car business in December, making it the nation's largest new-car dealer as well as one of the nation's largest rental-car companies. Shares hit a high of about 43 in January but slumped in April when Toyota and America Honda Motor Co. nixed deals between its dealers and Republic.
Now Republic must reach an accord with Honda, which seeks an injunction in federal court. Arguments are set for Sept. 15, and Honda says it's unwilling to alter its dealership agreement, which specifically precludes majority ownership in its dealers by a public company.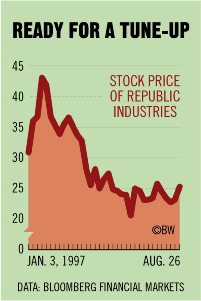 Republic is poised to keep growing with or without Honda. But few expect the stock to soar again. Analysts say that one factor keeping a lid on the stock is the red ink at the AutoNation used-car unit--projected at $50 million this year. Until that operation proves profitable and the new-car outlets successful, the stock may not budge much. The key barometer, says Furman Selz analyst MaryAnn N. Keller, will be if Republic's operating margins on new-car sales rise through the first half of next year. If not, Republic could be facing even bigger problems than the one with Toyota that it just fixed.
Before it's here, it's on the Bloomberg Terminal.
LEARN MORE