Look Who's Picking Levi's Pocket
To jean giants' dismay, store brands are grabbing share
Ellen Neuborne
Fourteen-year-old Kayla Mooney of Tyler, Tex., has been a big fan of Arizona jeans since she bought her first pair at a J.C. Penney store a few years ago. This back-to-school season will be no different for the eighth grader. Although she may pick up a pair of Levi's as well, her main interest is adding a few new pairs of Arizonas to her wardrobe. "I don't see any difference between Arizona and the others," she says.
To Levi's, Wrangler, Lee, and the other big brands that have long dominated the $10.6 billion jeans market, Kayla's tastes spell trouble. For as long as teens have been teens--and jeans have been cool--department-store denims such as Arizona have been decidedly declasse. While attractive to value-conscious parents, they have been mortifyingly uncool to kids. But now, thanks to hip marketing campaigns that feature rock bands, Web sites, and edgy imagery targeted at teens, even such family clothing purveyors as J.C. Penney Co. and Sears, Roebuck & Co. have turned their low-priced in-house jeans into some of the hottest labels around.
In so doing, they're giving the big brands some real competition for the first time ever. No longer generic, private-label jeans have created strong identities that are letting them walk away with the lion's share of growth in the jeans market. According to Port Washington (N.Y.) market researcher NPD Group, private-label jeans have gone from a 16% share of the market in 1990 to 25% today. Meanwhile, Levi's share has fallen from 22% to 20%. Overall, national brands and designer-label jeans, which held 70% of the market in 1993, have seen their share slip to 65%. "The denim jeans market has become more competitive. That is the reality," concedes Mark Hogan, director of marketing for Levi's. "They have built brands, and they are our competition."
Of course, much of that share grab can be credited to the Gap Inc., the largest of the private-label purveyors. A far bigger surprise is the success of cut-rate jeans from once stodgy department stores, thanks to marketing campaigns that successfully divorce the store from the jeans. "Teens are not putting it together that this is the house brand," says Michael Wood, director of research services at Teenage Research Unlimited of Northbrook, Ill.
That's certainly the case with Penney's Arizona brand, the first to capitalize on the trend. Back in 1992, as it expanded Arizona from a children's line to include adults, Penney shelved its traditional mom-targeted ads, which highlighted cheap prices and durability. In their place came a slick series of image ads that featured young adults at play. The shift paid off: From a standing start, says J. Raymond Pierce, president of brand development for Penney, sales of the Arizona line hit $1 billion last year, half of which comes from denim. Even better: Wood's annual survey of the most popular jeanswear puts Levi's at No.1, followed by Lee, with Arizona taking a surprisingly high No.3 slot for the second year in a row.
GO, GRUNGE. Arizona has since inspired a parade of copycats. In 1995, Sears launched its Canyon River Blues, which took in $200 million last year and is set for double-digit growth this year. Federated Department Stores Inc., which includes Macy's and Bon Marche, is relaunching Badge, its existing private-label line. In national TV ads this fall, alternative rock band BudoVooba, discovered on the New York college scene, will personify Badge's new grunge look. A companion Web site also features music and news aimed at teenage boys. "Badge has a new attitude," says Joe Feczko, Federated's senior vice-president for marketing. "It is a fashion message."
Why the big push into private-label jeans? Retailers were both lured and shoved into the market. In an effort to improve gross margins, many stores have upped their offerings of private-label clothing in recent years. But the national brands also partly have themselves to blame for the new rivals. As Levi Strauss and other jeansmakers have opened their own stores, the big chains have been forced to develop new products to hang on to customers.
Ironically, the tangled ties have left retailers loath to boast about their success. Chains such as Penney and Sears still sell millions of pairs of Levi's, Lee, and other national brands every year. Even with Canyon River Blues, the big names account for more than half the jeans sold at Sears. So stores walk a fine line between promoting their own products and angering their powerful suppliers. "We don't see ourselves in competition with Levi or Lee," says Penney's Pierce. "We see Arizona as a complement."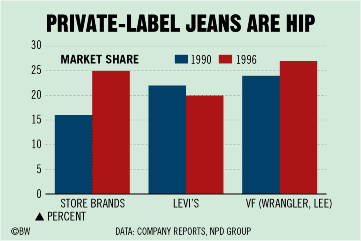 FEW DOUBTS. Maybe so, but that's certainly not how they see it. Hogan is fighting back with a slew of new efforts this fall. They range from a $90 million national ad campaign launched in August--its most expensive ever--to new products such as Special Reserve jeans, made of higher-quality denim. And VF Corp., maker of Lee and Wrangler jeans, is bringing out products that use more expensive, higher-quality denim, such as Riveted jeans. Over the longer term, however, VF CFO Gerard Johnson questions the retailers' staying power. As fashions shift away from the currently popular straight-leg look to more complex designs, he predicts the market for store brands will get a lot tougher.
For now, though, few retailers appear to share those doubts, and the onslaught of store-brand rivals is likely to continue. Specialty retailer Wet Seal, for example, is also hatching plans to better promote its own private denim line, Blue Asphalt. "Retailers are seeing the success of other stores and looking at their own denim brands to make them higher profile," says retail analyst Walter Loeb, a Wet Seal board member. For fashion-conscious teens such as Kayla Mooney, the number of labels to choose from looks likely to grow.
Before it's here, it's on the Bloomberg Terminal.
LEARN MORE