Is It Prime Time For Cable?
The Big Three aren't so big with audiences anymore
by
For years, executives at the big broadcast networks have laughed off the efforts of their poor cousins toiling in the obscurity of cable TV. Sure, the Big Three--ABC, CBS, and NBC--have been losing their hold on viewers for decades, but no one has really questioned the primacy of the networks and the hard-to-duplicate mass appeal their most popular programs possess. And certainly in the eyes of advertisers, who pay huge premiums for its airtime, broadcast still reigns.
But viewers are increasingly abandoning the Big Three for more interesting fare elsewhere. And where viewers go, so go advertisers--eventually. This summer, broadcasters received a few shocks that have forced them to face the encroaching power of cable. When the Emmy nominations for last year's highest-quality programs were announced in July, cable's HBO snared the most. That's the first time in television history the honor hasn't gone to a broadcast network.
FREE FALL. That came on top of a near free fall in ratings. As the last TV season ended in May, the Big Three's prime-time market share fell below 50% for the first time ever (chart, page 98). Cable, meanwhile, was being watched in prime time by nearly one-third of the country, a 50% increase in just the past five years. "Add us up, and cable is a very formidable competitor," says USA Network President Kay Koplovitz. It's not a single cable network doing this, but an explosion in new ones, such as TV Land and the History Channel, that is having such an impact. "They had better be looking over their shoulders."
It looks as though they finally are. As the new television season gets under way this month, all the broadcast networks except CBS are aggressively trying to brand themselves with a specific identity--much the way cable networks MTV, ESPN, and CNN have done for years. NBC is focusing on half-hour sitcoms, which will dominate four nights a week. WB, the fledgling network launched by Time Warner Inc., has recast itself as the family-friendly network. UPN, half-owned by Viacom Inc., is investing in sci-fi programs to complement its flagship Star Trek: Voyager. And in a hugely expensive bid to appear hip and relevant, ABC is aping cable's attitude-heavy advertising in its new, $40 million "TV is Good" campaign.
Fox is sticking with young adults and is aggressively holding on to those viewers. Of course, as the upstart fourth network, it has long prospered by stealing the Big Three's audience. Now, says Fox President Peter Roth, "audience erosion cannot be ignored." This summer, instead of running a steady stream of reruns, Fox aired fresh specials and debuted series such as the action show Roar on 40% of its schedule. As a result, Fox saw a 9% improvement in its viewership this summer, while ABC and NBC plummeted and CBS was up slightly.
But as the broadcast networks wise up to the cable threat, the cable networks are applying even more pressure by spending more on big-ticket and original programming to make themselves look, ironically, more like broadcast networks. Fox parent News Corp. handed rerun rights to two of its hottest shows--NYPD Blue, which airs on ABC, and The X-Files, shown on Fox--to FX, its own cable network. FX spent an astonishing $10 million to promote the reruns of the two shows. It appears to be paying off. Even though FX has distribution into only one-third of U.S. homes, 1.1 million viewers--triple its average--tuned in when the reruns debuted on Aug. 19.
Other cable networks are making themselves look more like broadcast networks by spending huge sums on programming. HBO has long pursued this tack, and its haul in Emmy nominations, along with its booming bottom line, is a significant achievement. TNT and TBS, both owned by Time Warner, have aggressively struck deals this year for the first free-TV rights to such big films as The English Patient. Most of the major cable networks are also making huge investments in their own original programming, whether it's special events like TNT's $8 million George Wallace biopic, or USA's weekly $1 million installment of La Femme Nikita. As viewers regularly see glossier, high-profile programs on cable, as well as big sporting events, the line between what viewers expect from broadcast and cable blurs.
SNOB APPEAL. The cable networks can afford the big investments in programming because they are much more profitable as a breed than broadcast. Cable networks make money by collecting fees from the cable systems that carry them, as well as by selling ad time. Broadcast networks only make money from selling ad time, and they also pay their affiliates for carrying their programs. With a forecasted 1997 operating profit of about $600 million, ESPN (80% owned by Walt Disney Co.) is the most-profitable network. First-place NBC made $500 million from its network last year, according to Merrill Lynch & Co.'s Jessica Reif Cohen, while ABC made $75 million, and Fox broke even. CBS lost $47 million, UPN lost $98 million, and WB lost $130 million.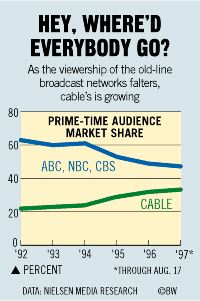 Despite the disparity in profitability and the narrowing gap in viewership, the snobbery surrounding the broadcast networks still holds with advertisers, which continue to pay huge premiums to place ads on broadcast vs. cable. Even with sharply reduced market share, the lure of reaching a huge audience in one shot still propelled the networks to $6 billion in advertising sales for the upcoming season. That, even as the cost-per-thousand (CPM) of reaching broadcast viewers rose 11% this year, while cable CPMs rose by less than 7%. So far, "we aren't counter-programming against channels that deliver 0.6 ratings [roughly 420,000 homes]," says Preston Beckman, NBC's senior vice-president of programming, planning, and scheduling. "We know that cable is out there, but our competitors are CBS, ABC, and Fox." In ads, maybe that's still true--for now. But Beckman's aloofness is one that he and his fellow network programming executives, surely, can no longer afford.
Before it's here, it's on the Bloomberg Terminal.
LEARN MORE