Earthlink: From Net Access, Net Gain?
by
Shares of Internet service providers are on fire again. But one small player, EarthLink Network (ELNK), has yet to rekindle after hitting 16 in February. Now at 11, EarthLink's growth has captured the interest of the smart-money crowd. George Soros has some 10% of EarthLink, and an investor group Soros heads is committed to buying more shares worth $5 million in a private placement.
Other big investors: mutual-fund manager Mario Gabelli and Ken Langone, president of Invemed Associates, a New York investment bank that took the company public in at 13 a share.
What's hot about EarthLink? It aims to meet growing demand for fast and easy Internet access. Originally formed as a regional access provider, EarthLink has grown to become a national presence through alliances with network providers UUNET Technologies and PSINet.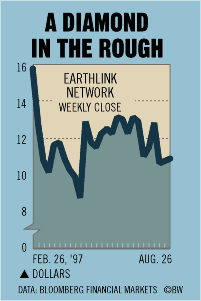 EarthLink has carved out a "very strategic piece of Internet business," says one investor, "prompting several regional Bell phone companies to work out arrangements with EarthLink to get a firmer foothold in the Internet business for its subscribers." One company is expected to take a 5% to 10% stake.
Microsoft may expand its involvement. One possibility: EarthLink will help manage a part of Microsoft's Net operations. In return, Microsoft may purchase EarthLink stock. Garry Betty, EarthLink's CEO, wouldn't comment on such speculation but concedes ties with Microsoft "will move forward on many fronts."
Before it's here, it's on the Bloomberg Terminal.
LEARN MORE