A Missouri Fund Firm Marries Well
American Century gets a big boost from J.P. Morgan
De'Ann Weimer
Excuse American Century Investments executives for those ear-to-ear grins. As the $61 billion mutual fund watched, competitors such as Scudder, Stevens & Clark and AIM Management Group were picked off by global money-management giants. Then on July 30, in walked J.P. Morgan & Co., the bluest of blue-chip banks, and agreed to pay $900 million for a 45% interest in the privately held Kansas City (Mo.) firm. "It's like you're sitting in an all-night diner and Cindy Crawford just walked in, looked at you, and said, `I want you,"' says one American Century executive of Morgan.
The new partnership gives a much-needed boost for American Century, renamed in January to give a new identity to the company formed by the 1995 merger of Twentieth Century Mutual Funds, an equity fund manager, and Benham Group, a fixed-income specialist. Although equity and bond funds have taken in some $160 billion in new money this year, American Century's net cash flow is flat, says Avi Nachmany of Strategic Insight, a mutual-fund consulting firm. American Century funds are best known for investing in companies with rapidly growing earnings, mainly small and midsize companies. The problem is that some of those funds' performances have faltered.
By linking with a global powerhouse such as Morgan, American Century has a shot at the world's largest corporations and its wealthiest individuals. And Morgan gets a technologically savvy partner that has built the systems needed to service 401(k) plans, the fastest-growing portion of the pension business. Morgan also gains access to those American Century customers who find themselves in need of Morgan's personal banking services. "We will sell their aggressive funds to our high-net-worth clients, and our stable of mutual funds to their clients," said Ramon de Oliveira, chairman of asset management services for Morgan.
The details of how the alliance will operate will be worked out in September, when de Oliveira, American Century President William M. Lyons, and top execs meet to decide which funds will be offered to which customers. Morgan runs 41 institutional funds with $30 billion.
Lyons, 41, who took over daily management at American Century in June after serving eight years as general counsel, says the only parts of the two firms to combine operationally will be the 401(k) businesses. Lyons says they'll merge "seamlessly," but the two operate in vastly different markets. American Century has 200 company plans with a combined 350,000 participants. Morgan has 60 plans but 1.2 million participants. The combined unit plans to target 401(k) plans with at least $700 million in assets and 5,000 participants--meaning they'll compete head-on with Fidelity, Vanguard, and T. Rowe Price.
MEAT AND POTATOES? To do that, American Century will also need to boost its funds' returns. Lyons said a shake-up in investment management late last year is starting to pay off. Longtime laggards such as Twentieth Century Growth and Twentieth Century Select are improving, but onetime stars such as Twentieth Century Giftrust and Twentieth Century Vista are still struggling. Lyons says the firm also needs more middle-of-the-road equity funds. "People look to us to spice up their portfolios," says Lyons. "I would rather have them look to us to be their main course."
Lyons certainly is clear about what he wants: $100 billion in mutual-fund assets by 2000. To do that, he'll have to seek customers abroad, and that's where Morgan's connections can help. On its own, American Century opened a Singapore office Jan. 1--so far, without much new business to show for it. Morgan's de Oliveira insists for now the partnership's focus is domestic.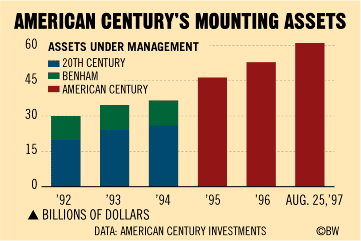 While Lyons' team works to resolve such differences, American Century founder James E. Stowers Jr., 73, is basking in his good fortune. He isn't selling his stake, but he stands to make an enormous return for the 280 original investors who backed his fledgling firm 40 years ago. Some of the shares sold to Morgan belong to the Stowers Institute for Medical Research, and the $300 million in proceeds will enable the Kansas City facility to open next year. Stowers, who, along with his wife, is a cancer survivor, chokes up discussing the deal.
Lyons, on the other hand, can't afford to be sentimental. He has to turn today's infatuation into a lasting marriage.
Before it's here, it's on the Bloomberg Terminal.
LEARN MORE