Unfortunately For The Music Biz, Elvis Is Still Dead
The industry is hurting--and technology may make things worse
by
It has been 20 years since Elvis wolfed down his last peanut butter-and-banana sandwich. But it's not hard to see why the record industry, emerging from its worst year in a decade, still misses The King. Witness the 125 gold and platinum records that adorn the walls of Presley's Graceland mansion, courtesy of BMG/Music. BMG's RCA label issued a 100-song Elvis compilation to commemorate the 20th anniversary of his death. A dozen other record companies have new Elvis-inspired disks, too. Have kids? How about Bugs & Friends Sing Elvis from Kid Rhino Records--complete with a blue suede box?
Pardon the $12 billion U.S. music industry for jumping on Elvis' white satin coattails. After two lackluster years caused by the collapse of many music retailers, record companies are still grappling with a more fundamental problem: Record buyers aren't very excited about what's on the shelves.
EXEC SHUFFLE. Recently, the industry has shown signs of life: Industry data collector SoundScan shows music sales through August up 7.1% from last year. But judging by all the hiring, firing, and dealmaking, there will still be a whole lotta shakin' goin' on before earnings start jumping again. In early August, Polygram Records Inc., which paid $325 million for Motown in 1993, forced out Motown chief Andre Harrell after two undistinguished years at the storied label. Polygram is expected to give Motown to Danny J. Goldberg, head of its Mercury label, which last year signed Hanson, a teeny-bopper heartthrob band.
Three days later, industry leader Warner Brothers Records Inc. outbid Seagram Co.'s Universal Music Group to retain longtime executive David Foster. Warner elevated Foster, a producer for such hitmakers as Celine Dion and Whitney Houston, to a key role advising Robert A. Daly and Terry S. Semel, co-chairmen of Warner Brothers' entertainment studio and Warner Music Group.
Warner is expecting big things from Foster. The company's share of the music market has fallen from 21% to 18% since December, and cash flow at Warner Music plunged 24% in the June quarter. "The thing we need is a diva," Daly says--along the lines of Sony Music Entertainment's Mariah Carey.
But even with a new superstar or two, Warner and other record companies face daunting challenges. For starters, sales are shifting away from record stores, which tended to order lots of different titles. With many of those stores facing bankruptcy, nearly half of all music sales come from mass-market retailers such as Kmart that tend to order mostly the hottest albums on the charts.
Further down the road lurks the uncertainty of new technology. It's now possible to download entire CDs from the Internet, and if recordable digital videodisk (DVD) technology catches on, millions of consumers will be able to create their own CDs. Record companies are working on schemes to prevent illegal copying, but new technologies pose "a huge threat that the industry has to address," says Arthur Gruen, president of entertainment-industry economists Wilkofsky Gruen Associates.
To get in shape to deal with these changes, record companies are scrambling to rein in spending. Two years ago, BMG slashed overhead, laid off 16% of its workforce, dumped unprofitable joint ventures, and cut $50 million from manufacturing. In the fiscal year that ended on June 30, profits nearly doubled, to about $200 million. Fueled by hits from new artists such as Verve Pipe and Swedish crooner Robyn, BMG's revenues rose $8%, to $1.7 billion, in the past year.
Other labels have also chopped away. Polygram took a $90 million write-off last year and laid off 400 staffers. Warner and Sony have downsized, too. London's EMI Music, still struggling from its $960 million acquisition of Virgin Records in '92, has shut its U.S. EMI office.
NET PLANS. Hits, of course, can quickly reverse fortunes. Thanks to the debut album of Virgin's new sensation, The Spice Girls, who have sold 4 million copies, the label's share jumped to 12.5% from 8.7% last year. Sony is awaiting new albums from Celine Dion and Mariah Carey to reverse a slide in operating profits in its fiscal year just ended.
Other labels are looking to buy up talent. Universal boosted its share in part by paying $200 million for rap label Interscope Records. To revive its music efforts, Walt Disney Co. paid $20 million--outbidding BMG and others--to gain control of Mammoth Records. Jay Faires, head of Mammoth and a former Atlantic Records exec, has signed such hitmakers as Seven Mary Three.
In addition to new talent, labels are seeking new markets. Sony, Warner, and BMG will soon sell records on the Internet. And everyone is looking overseas, where markets are growing faster.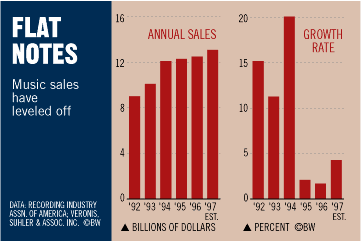 Still, the best bet is developing hot talent. But that, too, has become riskier. American teens have become increasingly fickle, producing a wave of one-album wonders, such as Sony's silverchair, an Australian group that had a top-selling album in 1995, but hasn't produced anything since. Record companies spend big to promote a hot act such as silverchair, counting on future album sales to justify the investment. When they don't come, there's no payoff. That's when record execs head for the vaults for commemorative reissues. Brace yourself for the upcoming anniversary of Buddy Holly's plane crash.
Before it's here, it's on the Bloomberg Terminal.
LEARN MORE