The Cost Of Change At Hoechst
The dizzying shift into a drug player leaves investors confused
Karen Lowry Miller
Only last year, it seemed that Jurgen Dormann could do no wrong. The chief executive of German chemical and drug giant Hoechst saw his company's stock price soar 81% in 1996 as investors applauded his streamlining strategy. He was hailed as Mr. Shareholder Value--the man brave enough to lay off workers, exit weak businesses, and dump undervalued subsidiaries.
Then, suddenly, his winning streak appeared to end. On Mar. 12, Hoechst posted a fourth-quarter loss, surprising the market. Dormann axed a plan to take drug unit Hoechst Marion Roussel (HMR) public as a separate entity. His explanation for the change of plans confused investors, who sent Hoechst's share price plummeting 11% in three days. And on Aug. 13, just when the stock had recovered, Hoechst released worse-than-expected results for the first half of 1997. Traders slammed the shares by 9% (chart).
What's going on? Answer: one of the most drastic restructurings in Germany's postwar corporate history. And while Hoechst evolves, investors' patience will be tested. As more units are sold, shut down, or spun off into joint ventures, the quarterly data won't make easy reading. Dormann, 57, wants to transform Hoechst from an old-line chemical maker into a predominantly life-sciences company by 2000. But as he prepares to launch the road show before Hoescht lists its American depositary receipts on the New York Stock Exchange on Sept. 24, he will need to reassure the investing public that his restructuring is on track.
Some analysts are giving Dormann the benefit of the doubt. Genghis Lloyd-Harris, drug analyst for CS First Boston in London, has lowered his earnings-per-share estimates to $1.58 from $1.85 for 1997, largely because the half-year report revealed a higher-than-expected tax burden. Yet he sees the share price climbing by 57%, to $61, within two years as Dormann unlocks the value in Hoechst's parts. Adds Peter Blair, chemical analyst with Salomon Brothers: "Long term, the strategy is sound."
But Dormann must play catch-up to his industry. World-class drugmakers from Britain's Glaxo Wellcome PLC to Swiss giant Roche have jettisoned noncore businesses and teamed up with biotech startups. The idea is to focus on the lucrative prescription-drug market and put research money where the big payoff is.
Hoechst may have been slow to catch on. HMR is the world's seventh-largest drug company, and it already accounts for 46% of Hoechst's operating profits from only 25% of sales. Yet its operating margin of 14.2% trails more than 20 other competitors, and it has no blockbuster drug on the market. Glaxo CEO Richard Sykes does not consider it a serious competitor yet. "Hoechst has just missed the boat" in the shift from chemistry to biology, Sykes declares. "[It] should have started 10 years ago."
Dormann is racing to make up for lost time. Since buying a beachhead in the crucial U.S. market with its 1995 purchase of Marion Merrell Dow Inc., Hoechst has focused on bringing together three companies under HMR and eliminating overlap. It will cut 8,000 jobs and close 44 manufacturing sites by 1998, for a total cost savings of $600 million. The target: Operating-profit margins of 20% by 1999.
HMR's new leadership will be key to its success. Richard J. Markham, former president of Merck & Co. and president of Marion Merrell Dow, took over as CEO in January, 1997. His goal is to turn HMR into a branded-drug company in the same league as Pfizer, Merck, or Glaxo. Within a year, he expects to divest the company completely of generic drugs and other noncore businesses. Markham, 46, is scouring outside biotech labs for early drug discoveries, then having HMR's research team screen candidates for development--Hoechst's traditional strength.
Markham is earning respect even from longtime Hoechst critics. "Before, Hoechst couldn't walk and chew gum at the same time," says Barrie James, president of Basel-based Pharma Strategy Consulting. "Now they've got a quality management in there who will make the right moves."
The drug pipeline already looks more promising. Analysts are keenly watching cariporide mesilate, a drug in phase III clinical trials in Europe and the U.S. that reduces permanent damage to the heart muscle after a heart attack. Planning its launch for 1999, Hoechst predicts peak worldwide annual sales of $272 million. Another potential blockbuster, also in clinical trials and due for a 2000 launch, is a drug to treat schizophrenia without Parkinson's disease-like side effects. Sales could hit $1 billion, Markham predicts.
Still, the lanky, cerebral Dormann must work full-time to restore his reputation for nurturing the bottom line. His first coup came in 1991, when as Hoechst's chief financial officer he persuaded the old guard to let him spin off the money-losing carbon and graphite business and install new management. Now, SGL Carbon is one of Germany's hottest stocks.
Since taking the reins at Hoechst in 1994, Dormann has tried to replicate that success with other units. He put Hoechst Celanese CEO Ernest Drew in charge of a team to analyze the profitability of each business segment and appointed him to the management board. Besides introducing Diet Coke and cookies to board meetings, the 60-year-old Drew brought an international view that the stuffy German conglomerate sorely lacked. As late as mid-1996, after selling off obviously noncore operations such as cosmetics, Hoechst still thought of itself as a hybrid chemical-and-drug company. It was only in October, 1996, that management decided to aim for the fat profits and steady growth of biotech.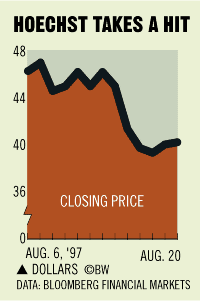 That may be why the market is still easily confused by Dormann's moves. Investors expected an initial public offering of HMR this month. Instead, Dormann spun off Hoechst's specialty chemicals business and used the proceeds to buy the rest of drugmaker Roussel Uclaf. The IPO was no longer necessary, Dormann says, and HMR became the essence of the new Hoechst. But investors didn't understand why the offering had been canceled. "We could have been more careful in communicating," admits management board member Horst Waesche.
Dormann remains unruffled by his stock's volatility. Now, he is concentrating on creating a long-term incentive plan for top managers to attract world-class talent. But only the market can reappoint him as Mr. Shareholder Value.
Before it's here, it's on the Bloomberg Terminal.
LEARN MORE