Texaco Fills `Er Up
It's topping off reserves by buying chunks of the oil patch
Tim Smart
Ever since taking charge at Texaco Inc. a year ago, Chairman and CEO Peter I. Bijur has been telling Wall Street he wants to raise the company's annual oil and gas production more than 50% by the end of the century. Now, Bijur is showing how he intends to make that happen. On Aug. 18, Texaco said it would acquire California independent oil and gas producer Monterey Resources Inc. for $1.15 billion in stock and the assumption of $285 million in debt. The next day, Texaco acquired a 20% interest in Kazakstan's giant Karachaganak oil and gas field for an undisclosed sum. The two boost Texaco's reserves by some 30%.
The twin deals represent two parts of Texaco's three-pronged strategy of acquiring oil in mature, producing fields, buying into discovered reserves with strong long-term potential, and pursuing some higher-risk exploration. They also indicate Texaco's belief that oil prices have firmed and demand will remain strong. "Some stability has certainly returned to the industry," says C. Robert Black, Texaco's head of worldwide exploration. "Demand has been strong--and greater than we anticipated."
Wall Street has been skeptical about whether Texaco will reach its targets, which suggest 9% annual growth, according to Eugene L. Nowak, an analyst at ABN/AMRO Chicago Corp. But he believes Texaco's latest moves should convince investors. "They have in two fell swoops expanded their reserve base very dramatically," he says. It also helps that Texaco is boosting its five-year capital spending 55%, to $24.3 billion, up from $15.7 billion for 1992 to 1996.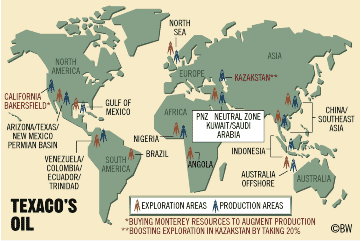 The Monterey purchase fits Texaco's new acquisition strategy to a tee. It gives Texaco access to properties adjacent to its own holdings in California's Kern River basin. Monterey will add 54,000 barrels a day to Texaco's existing 126,000 barrels. And Texaco hopes to be able to use its expertise in "steam flood" technology, whereby heat is generated underground to dislodge oil, to increase production. Monterey already uses steam technology, but Texaco thinks its method is superior. Indeed, through the use of such technologies, Texaco has cut its cost of finding oil from $6.50 a barrel a few years ago to $3.50 today.
That should give Texaco an edge regardless of the course of oil prices. The company could use it. Texaco lost ground in recent years as it recovered from its battle with Pennzoil Co. and then spent a good part of the 1990s selling off assets. With its latest moves, Texaco is trying to make sure it doesn't fall behind again.
Before it's here, it's on the Bloomberg Terminal.
LEARN MORE