Sir Run Run's Red Chip Hasn't Come In
Beijing's wariness slows a media mogul's expansion plans
by
For decades, Sir Run Run Shaw has dominated Hong Kong television. Through his family-controlled companies, Shaw Brothers and Television Broadcasts Ltd. (TVB), Sir Run Run controls the territory's biggest TV station and its premier producer of TV shows. But Shaw is 90 years old and has not designated any of his children or anyone else to take his place. So when rumors surfaced in late July that Shaw would sell down his stake, uncertainty about the buyer prompted the shares to plunge (chart).
The recent stock drop underscores the tight spot that TVB finds itself in. As with nearly all rumors in Hong Kong these days, speculation centers on a Chinese company--a mainland red chip--taking a stake in TVB. Ordinarily, such rumors drive a Hong Kong stock up. So far, though, that magic hasn't worked for TVB, for several reasons. Despite TVB's rich assets, its managers have found it tough to extend Sir Run Run's empire, leading to several years of so-so performance. Though 1997 profits at the $400 million company should jump, they will still fall short of TVB's 1994 earnings. Investors also fear that no red chip will be able to buy into TVB. So for now, little incentive exists to bid up the stock.
GOLD MINE? It wasn't so long ago that TVB was a darling of investors convinced that its unrivaled library of Chinese programming would be a gold mine once China opened up to foreign broadcasters. In 1995, British media giant Pearson bought 10% of TVB, which was expanding around Asia and setting up satellite channels in North America and Europe, to reach Chinese audiences worldwide.
But the recent news has been disappointing. In February, Pearson sold its stake back to Shaw. Ad revenues for the company's Cantonese-language channel have been soft. And investors have started looking for the payoff from TVB's plans for growth outside Hong Kong. "In the past, people would pay a premium for the international network and for China," says Renee Tai, an analyst with the investment house of BZW Ltd. in Hong Kong. "But the international network is a long-term goal, and China has never materialized."
TVB managing director Louis R. Page, a 47-year-old accountant from Sri Lanka who has long worked with Shaw, insists that Sir Run Run is not interested in selling a controlling interest and that the company is well positioned. (Shaw declined a request for an interview.) "This has been a lot overplayed, the succession issue," sighs Page. "We have enough people who can take the company forward." And Page insists that China will be a rewarding market.
So far, TVB has made little progress in China, where the state wants to keep control of the media and foreign broadcasting is banned. In a frustrating twist, TVB does have a mainland audience. Government-owned cable operators in Guangdong province, just across from Hong Kong, pick up TVB's signal, cut the ads, insert their own commercials, then illegally send TVB's historical dramas, action series, and soap operas into local households. TVB is not protesting for fear of ruining its chances in China. But on the bright side, its programming has a 38% share of the Guangzhou audience, says Andrew Green, director of strategic media resources at Zenith Media in Hong Kong. Beijing's China Central Television (CCTV) racks up just 5%.
TVB hopes it can finally profit from its popularity in China. The company is negotiating with the Chinese to coproduce up to 60 hours of Mandarin-language programming this year in Beijing and Shanghai. While that's a fraction of the 7,000 hours that TVB produces annually in Hong Kong and Taiwan, it could lead to more access to the Chinese market. Next year, Page says, TVB wants to introduce Mandarin-language entertainment and music channels aimed at mainland audiences.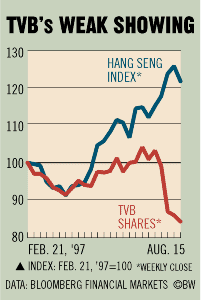 Despite these forays, Page says there are no talks about selling TVB shares to a Chinese partner. For good reason. "Bringing in a mainland interest brings in a whole set of complications," says Susan J. Schoenfeld, president of Advisors for International Media Asia, a local consulting group. Hong Kong law bars a foreign company from owning more than 10% of a broadcaster like TVB. Although Hong Kong is now part of China, it is unclear whether a mainland company would be considered foreign or local. Beijing probably also wants to avoid the uproar over press freedom that would ensue if a mainland company won control of Hong Kong's biggest TV station. So far, TVB is finding it surprisingly tough to play the China card.
Before it's here, it's on the Bloomberg Terminal.
LEARN MORE