On The Prowl In Plymouth's Bad Boy
Bill Vlasic
There's no such thing as a routine spin around the block in Chrysler's new Plymouth Prowler. Minutes after pulling out of my driveway, I cruise by a neighborhood park in the low-slung, purple roadster modeled after 1930s-era hotrods. As if on cue, a sandlot baseball game freezes in mid-pitch. The preteen players stare in my direction, and then begin a rhythmic chant: "Prowler...Prowler...Prowler!"
Talk about an attention-getter. Outrageous by design, Prowler is the spiritual successor to the wildly popular Dodge Viper muscle car. The idea behind Prowler was to inject some excitement into Chrysler's tired Plymouth brand. On that score, the 1997 Prowler, which goes on sale this month, delivers big time. For three days, the Prowler and I were waved at, honked at, tailgated, and generally ogled nonstop. Imagine strolling with Claudia Schiffer or Brad Pitt. This isn't just a car, it's a celebrity on wheels.
BIT OF A BRUTE. With a $39,000 price tag, Prowler can't succeed on looks alone. Luxury carmakers Porsche, Mercedes-Benz, and BMW have all rolled out new two-seat roadsters since last year, and the rivalry in this sporty segment has never been tougher. With its unique wedge-shaped body, huge 20-inch rear tires, and sinister-looking headlamps and grille, Prowler won't get lost in the crowd of snubnosed European convertibles. Compared with the fine road manners and sophistication of vehicles such as the Porsche Boxster and Mercedes SLK, Prowler is a bit of a brute. Yet Chrysler revels in the car's image as the antithesis of the slick, luxury roadster. "It's thumbing your nose at conventional things," says Thomas Gale, executive vice-president of product development. "There's a bad-boy mentality about Prowler."
Like any bad boy, Prowler does its share of misbehaving. Its ride is rough, and hitting a serious pothole can rattle your teeth. The rear end shakes on bumpy curves. Its tight fenders and jutting plastic grille catch every loose pebble, creating almost constant noise. Other drawbacks include a trunk barely big enough to store a garment bag, and a windshield so narrow that the rear-view mirror nearly obstructs your vision.
But you flat-out don't care about those flaws because driving the Prowler is so much fun. So what if it comes in just one color--"Prowler Purple"--and is only equipped with a 3.5-liter, V-6 engine? Chrysler programmed the automatic transmission to shift hard and abruptly, providing a satisfying kick from first to second gears. Or the driver can use the clutchless AutoStick to shift. Aluminum body panels keep Prowler's weight down to a trim 2,862 pounds, so its 214-horsepower engine can hit a top speed of 120 miles per hour. The brakes are sound, the steering and overall handling even better.
There are any number of neat features in the cockpit, from the raised silhouette of a prowling panther on the leather seats to the old-fashioned tachometer mounted on the steering column. A line of white gauges is embedded in a sleek oval centered in the dashboard. The 320-watt, seven-speaker sound system has a six-disk CD player and cassette deck. Seats are set low, so the door panels come up to the shoulder of a six-foot-tall driver. The deep seat position provides more-than-adequate headroom when the convertible top is up. And the top can be easily lowered by unfastening two latches in the windshield and a pair of locking pins in the trunk lid. It even has a glass (instead of plastic) rear window with an electric defroster.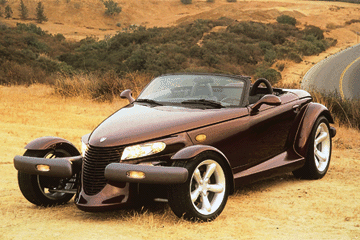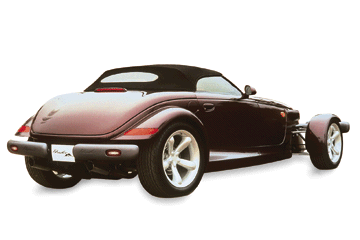 This is the perfect car for the exhibitionist in the family (who, based on the price and target market, is likely to be an affluent male over 35). Even the most jaded auto industry types in Motown are hard-pressed not to gape. A visit to the United Auto Workers headquarters in Detroit, for example, drew a crowd of 50 to the parking lot. One awestruck reaction: "They're not really going to sell this, are they?" They sure are, but not many. Chrysler plans to build about 3,000 Prowlers a year and parcel them out only to their best dealers. The thinking is that part of the car's mystique will be its scarcity.
Prospective owners should be warned that living with Prowler can be wearing. After turning the car over to my parking lot attendant one morning, I returned to find it gone. Seems he couldn't resist showing it off to the other car-parkers down the road. And it can be a trifle unnerving to idle at a stoplight and notice that a van full of nuns is waving wildly at you. Makes you want to hunker down in that deep seat--and keep driving.
Before it's here, it's on the Bloomberg Terminal.
LEARN MORE