Hold, All Ye Faithful
Don't let bumps bounce you out of the stock market
by
It loves me. It loves me not. It loves me... As the Dow Jones industrial average swings from a 247-point loss one day to gains of more than 100 points for each of the following three days, investors can't help but feel whiplash. But while the going may be rocky in the next few months, many market pros say the investing public's romance with the stock market will continue to be rewarded.
Market strategists point out that what seems to be a mercurial market is actually a return to normal volatility. And they expect the market's erratic behavior to continue. "The stock market should be able to go through a period where highly valued stocks are chopped down and offered at much more reasonable prices," says Thomas McManus, NatWest Market's U.S. investment strategist. "That would leave a legacy of further reasonable gains to be made over the next few years." McManus thinks the Dow will end the year at 8000 to 8050.
FULL RECOVERY? Goldman Sachs & Co.'s highly respected Abby Joseph Cohen, a longtime bull, thinks investors will play a waiting game in the next few months. "What has happened is that we've had great economic news, stock prices moved notably higher, and then people look around and say: `What have you done for me lately?"' says Cohen. "Then, we get stuck in a trading range" while investors await news on the economy and corporate profits.
In response to signs of mild-mannered inflation and good second-quarter profits, Cohen upped her 1997 forecasts on Aug. 18. She expects stocks to recover fully from their recent fall by yearend and to move higher in 1998. Cohen's yearend target for the Dow is 8250, a 2.8% rise from current levels, which would mean a 27% rise for the year. Down the road, Cohen expects stock returns to track improvements in corporate earnings closely. Lehman Brothers Inc.'s Jeffrey M. Applegate also expects the market to rise, noting that if earnings meet Lehman's projection of being up 10% a year from now, and if the long bond rallies to 6.25%, the market ought to move higher in a sawtooth pattern, with the Dow at 8800 a year from now.
Less bullish is Christine A. Callies, chief investment strategist at Credit Suisse First Boston Corp. While labeling the 247-point drop on Aug. 15 "another of the market's panic attacks," with no apparent relation to a shift in underlying fundamentals or changes in capital flows, Callies thinks most of the positive impact of lower rates is already built into the stock market. "With no meaningful help from bonds, the market is going to get increasingly volatile between now and yearend," says Callies. "Our work suggests that the bond market is over-optimistic on the subject of low inflation and too complacent about the ability of the economy to recover." Her worst-case downside: 875 on the Standard & Poor's 500-stock index, about a 7% drop from the index' current level.
While remaining positive on stocks, some strategists are warming up to bonds. McManus recently reallocated 5% from his model portfolio's cash weighting into bonds. "Despite very widespread fears to the contrary, inflation is very much under control, and bonds are attractive," he says. McManus believes real bond yields--the yield less the inflation rate--are about 100 basis points too high and should be about 250 to 300 basis points over inflation. "If inflation can stay at its current level of 2% to 2.5%, then the bond yield can fall gradually as bonds reprice themselves to a more natural premium over the inflation rate," he says. That would translate into a long bond at 5.5%, as opposed to its current rate of 6.5%.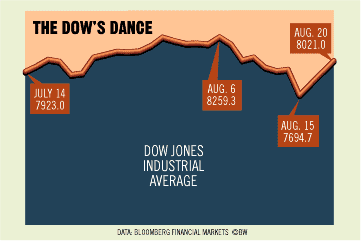 BUYING OPPORTUNITY. Flows into bond mutual funds have indeed picked up in recent months, but equity-fund investors don't seem to be jumping ship. "Investors are staying the course and to some extent taking advantage of dips to buy additional equity-fund shares," says a Vanguard Group spokesman. According to Charles Biderman, president of Trim Tabs Financial Services in Santa Rosa, Calif., flows into bond funds are slowing as investors chase performance. "It used to be that flows into funds lagged performance, but in recent months, it has been simultaneous," he says. "That says that a lot of people out there are trading funds--that some mutual-fund buyers are becoming speculative players."
If McManus' call on the bond market is right, those that move into bond funds will do well. But falling rates would also goose equities. So those who stick it out with stocks could again be the biggest winners.
Before it's here, it's on the Bloomberg Terminal.
LEARN MORE