Good Chemistry In China
By
So-called red-chip stocks continue to be red-hot. Trading mainly in Hong Kong, they are shares of companies with ties to enterprises inside China. But there's one red-chip issue that trades not in Hong Kong but on the NASDAQ: Pacific Chemical Group (CPTA).
"It's one of the new breed," explains S.L. Chen, chairman of S.L. Chen Associates, consultant to many state-owned enterprises in China, including Pacific Chemical. The company is a textbook example, he says, of the kinds of venture that will flourish in China in the next few years. Pacific Chemical owns 51% of a joint venture company that is the second-largest producer of purified terephthalic acid (PTA), a chemical used to make polyester resin. This is a critical raw material in the textile and bottling industries. Demand for PTA is exploding, says Chen.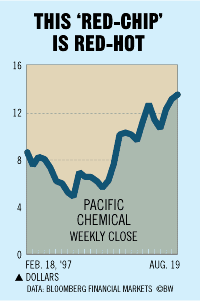 Located in the northern city of Jinan, the joint venture is called Jinan Dayang Chemical Fiber. The remaining 49% is owned by Jinan Chemical Fiber. The joint venture's PTA production is sold to Jinan Chemical, so the growth of Jinan Dayang is inextricably linked with the progress of Jinan Chemical.
So far, the venture is thriving, according to Joe Salvani, director of research at Boston Group, who has put a buy recommendation on Pacific Chemical. The stock, which has been rising, trades at 13. Based on projected growth, Salvani thinks the stock could hit 20 this year. He expects the company to earn 85 cents to $1 a share on estimated sales of $80 million this year, and $1.50 a share on sales of $110 million in 1998.
Before it's here, it's on the Bloomberg Terminal.
LEARN MORE