Digital Security: Just Add Watermark
Embedded digital tags could foil piracy of music and images
Elizabeth Veomett
Most people wouldn't walk into a store and pay money for a compact disk that was being given away on the street outside. That holds true when the street is the Information Superhighway, too. The Recording Industry Association of America (RIAA) says illegal Web sites offering free music downloads could eventually cost the industry $2 billion a year. It recently won court orders against three illegal sites.
Now, record makers are finding new ways to arm themselves against I-way robbery. A software technology called digital watermarking can speed the electronic gumshoe work of finding pirates on the Web. And down the road, the technology could be used to prevent copying of movies and music on digital videodisks, or DVDs. That could produce a bonanza for the software's developers. "If online music distribution takes off, the company that produces the watermarking system to protect it will be a household name, not unlike Dolby," says Richard Gastwirt, a director at watermark startup ARIS Technologies Inc., of Cambridge, Mass.
Named after the process for authenticating the paper used on $100 bills, watermark software embeds imperceptible messages--such as the name of the artist and recording date--into music. The messages stick whether a song is stamped on a CD or zipped over the Internet. Computer programs can read the marks and find Web sites that download the songs. The marks won't determine whether the use is legal--but tracking down the sites to check for abuses will get much faster.
At least eight companies in the U.S. and Japan are developing watermarks. And they're ready to roll--as soon as the record industry agrees on a standard. The International Federation of the Phonographic Industry (IFPI) in Zurich hopes to do so by yearend.
TELLTALE. There's no time to lose. The number of Web sites selling music for download--legally or otherwise--is growing rapidly. In mid-July, N2K's above-board "Music Boulevard" site started selling singles for 99 cents. Net surfers can download the music using software from Liquid Audio Inc., in Redwood, Calif. Songs are encrypted so that only paying customers have "keys" to listen. To discourage redistribution, they are watermarked to identify the buyer, using a technique from Solana Technology Development Corp. in Solana Beach, Calif.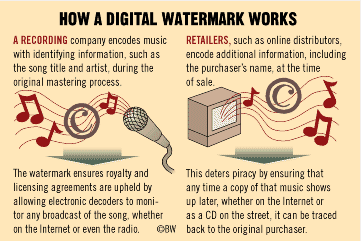 The watermark fix isn't perfect. Hackers will work relentlessly to strip out the telltale marks. And the world is already awash in unmarked digital music. Also, privacy advocates are worried because watermark trackers can identify who's listening to what, and somebody may misuse the information.
That's life on the I-way, says Jordan Rost, senior vice-president for marketing at Warner Music Group Inc. "The pace of technology is moving so rapidly that both threats and opportunities are growing exponentially." Watermarking is an opportunity for record makers to stop a threat.
Before it's here, it's on the Bloomberg Terminal.
LEARN MORE