Advanced Health Is In The Pink
by
Advanced Health (ADVH) is by no means a blue-chip, but it has kept pace with the large-caps in this roaring bull market: When first featured in this column on Feb. 3, 1997, the stock was trading at 9. It has since zoomed to 20, more than doubling its market cap from $65.7 million to $148.4 million. And like the horde of faithful bulls in the market, some pros keep on buying Advanced Health. What's the scoop?
Advanced Health is branching out from providing integrated services to physicians. It's becoming an information technology company, which should produce even healthier results. Advanced Health has developed "clinical trial" software for companies with products that need to get Food & Drug Administration approval.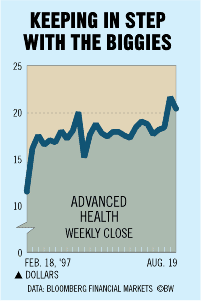 The company says that the software will simplify the process of filing for clinical tests. Advanced Health's software includes a database of information on patients and doctors who can be enrolled in trials. The software also helps analyze the characteristics of any product, which will reduce the time and cost of filing for approval from the FDA.
So far, Advanced Health has been beating earnings estimates, causing most analysts to rate the stock a buy. For 1997, they expect 51 cents a share, vs. a 26 cents loss last year and for 1998, the consensus is $1.07. Will the company beat these estimates as well? "You bet," says one insider.
Before it's here, it's on the Bloomberg Terminal.
LEARN MORE