A Deluge Drenches The Economy...And Uncovers Man Made Blunders
James Drake
There are no spare beds in the Czech Republic's psychiatric hospital in Opava these days. Since last month's flooding--Central Europe's worst in two centuries--head doctor Ivan Drabek has admitted some 60 attempted suicides, including one man who had just finished building a family house he had been working on for 15 years. "The next day, it was all swept away," Drabek shakes his head. "And he didn't have insurance. I can't imagine how he feels."
There are plenty of others, though, who can. The July rains and runoff, which swamped more than one-third of the country, left 10,000 Czechs homeless and some 1,000 large companies and 10,000 small businesses destroyed or badly disabled. Of those, only 25% were insured against the elements--and thanks to reinsurance, they will likely get paid for damages, but not for months. Most folks, however, are out of luck. "Under communism, people just weren't used to taking responsibility for their own lives," explains Prague sociologist Jan Spinek. "It took something like this to bring them into the real world."
So far, Prime Minister Vaclav Klaus's administration has released $352.9 million in aid and issued $156 million in bonds to finance additional help. Even so, it likely won't be enough: While the Czech Trade & Industry Ministry estimates the final bill will exceed $760 million, private analysts say that it will be at least four times that, and the Finance Ministry predicts a yearend budget deficit for the first time in four years.
SILVER LINING? "This could not have come at a worse time for us," says Finance Minister Ivan Pilip. "Last May, international money-market speculators, scenting an overvalued currency, forced the Czech koruna down and out of its exchange-rate mechanism. In response, the government introduced wage freezes, jacked up interest rates, and imposed budget cuts totaling $125 million. Now, the prospect of increased spending and subsequent inflation is driving the koruna down again, sending stock prices tumbling and base rates back up to near-record levels.
It's not just industry and the markets that have been floundering. The 195,000 hectares inundated last month contained some of the richest agricultural land. Now, the Czech Republic--in the past, largely self-sufficient in grain and livestock--may have to import as much as one-half of its basic foodstuffs this year, adding to an already yawning trade deficit. Meantime, the farmers' union says that its members will be forced to raise their prices by 10% to 15% to wholesalers. It is pressing the government to hike immediate financial aid to farmers so that preparation for planting next year's crops can begin.
Still, there are some observers high and dry in Prague who are looking on the bright side. "It's bizarre, but this could be what the government has been waiting for," says Jiri Pehe, a commentator for Radio Free Europe. Liquidation of damages will add to the gross domestic product and at least temporarily decrease regional unemployment. What's more, the rebuilding effort should include the long overdue reconstruction and modernization of some of the region's industrial dinosaurs.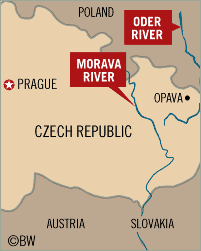 Czech politicians are fond of blaming their communist predecessors for all kinds of problems--and in this case, they may have a point. Poor urban planning and senseless water and woodland management during the cold-war era have wreaked ecological havoc and rendered the soil incapable of absorbing large volumes of water. Some of the most densely populated postwar housing projects were built along major rivers. Between 1960 and 1990, according to Bohumil Kucera of the Environment Ministry, 4,000 km of waterside vegetation were destroyed and 240,000 hectares of field hedges, which could have acted as a natural flood barrier, were plowed over. "We couldn't have stopped the floods, but the impact could have been much smaller," says Kucera.
As the waters from the Morava, the Oder, and other rivers recede, the agony isn't over yet for one group of locals. The deforested hill above the tiny settlement of Mikuluvka is disintegrating, threatening to bury the village under a landslide. Huge fissures, several hundred meters long, have appeared, and firemen are working around the clock to pump out newly formed springs that are undermining the hill still further. Geologists say such processes in nature take hundreds of years to occur. This one took just a few weeks.
Before it's here, it's on the Bloomberg Terminal.
LEARN MORE