Why Women Are So Invisible
"You run into subtle sexism every day. It's like water torture. It wears you down"
Steve Hamm
When Carol Bartz was named chief executive of Autodesk Inc. five years ago, she joined the most exclusive of clubs. At the time, there was one female CEO of a sizable tech company in Silicon Valley--Sandra Kurtzig of Ask Computer Systems Inc. Now, Kurtzig is retired, and Bartz stands alone in big-tech-company circles. And she doesn't like it one bit. "It's pathetic," she says. "It paints a horrible picture of Silicon Valley."
And probably the last one people might expect. It shouldn't matter if you wear suspenders or a dress, least of all in the world's techno-epicenter, where the only price of admission is supposed to be smarts and hard work. But the numbers say otherwise: Among the Valley's 1,686 major tech companies, only 5.6% are led by women, according to CorpTech, a business directory publisher in Woburn, Mass.
What gives? Is the supposedly wide-open Valley capped by a silicon ceiling? Blatant sex discrimination is rare, say women tech execs, but subtle barriers are encountered routinely. Anita Borg, a senior researcher at Digital Equipment Corp. in Palo Alto, calls it the "invisible-woman syndrome," where women's ideas are discounted or ignored. "You run into subtle sexism every day," she says. "It's like water torture. It wears you down."
But even if sexism were wiped out tomorrow, women still would be underrepresented in tech. The reason: Fewer women than men are pursuing degrees in computer science. In 1984, 37.1% of such bachelor's degrees went to women, according to the National Center for Education Statistics. By 1995, that had shrunk to 28.4%.
For all the gloomy statistics, there are glimmers of change. In the past few years, as a dizzying number of new companies surfaced, more female execs took the startup plunge. Last year, Kim Polese, a product manager at Sun
Microsystems Inc., founded Web startup Marimba Inc. and then joined Babes in Boyland, an organization of female tech execs. "If you really want to shoot to the top," she says, "you probably have to start your own business."
CASH CRUNCH. And you may have to do it with your own checkbook. Despite a new crop of female entrepreneurs, women still have a tough time getting venture financing. Companies established or run by women received just 1.6% of the $33.5 billion in venture capital invested in tech from 1991 to the third quarter of 1996, according to VentureOne Corp. Just ask Janese Swanson, who produced software hit Carmen Sandiego while at Broderbund Software Inc.. In 1995, she founded Girl Tech, a San Rafael (Calif.) maker of electronic products for girls--but she had zip luck getting venture money and had to use her credit cards. "I went in with a doctorate, a track record, and a stellar business plan showing a hole in the marketplace," she says. "Everywhere I went, I heard no's."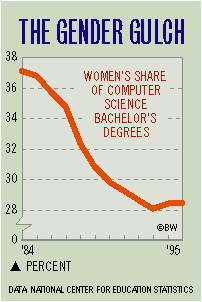 Some Silicon Valley companies are trying to correct gender imbalances. At Hewlett-Packard Co., Carol Mills and Janice Chaffin job-share as general managers of its multibillion-dollar Unix systems business. And Willem Roelandts, CEO of chipmaker Xilinx Inc., promoted two women who now report directly to him. "It's a business issue," he says. "You can't ignore 50% of the brains in the world."
Still, profound societal changes will have to take root before women reap their share of Silicon Valley's rich harvest. Many young girls shy away from math and computers because they see them as a boy's province. That probably won't change for decades. So don't expect Boys in Babeland anytime soon.