Why Sgs Thomson Is In The Chips
by
When SGS-Thomson Microelectronics (STM)--France's answer to Intel--was highlighted in this column on Jan. 1, 1996, the stock was at 33, and fans were projecting 60 in 12 months. Well, SGS has streaked way past that: It closed at 90 on Aug. 5. After such a showing, is it time to bail out?
Not a chance, says Ray Hirsch of American Express Financial Advisors, which has accumulated nearly 700,000 shares at an average cost of 35 each. How much more oomph is Hirsch expecting from Big Board-listed SGS?
Based on the company's technology, Hirsch sees the stock hitting 120 in 12 to 18 months--thanks also to investors' recognition of SGS's lead in the "systems-on-a-chip" technology and the company's dominance in chips for smart cards, which are popular in Europe.
Systems-on-a-chip technology melds the functions typically embedded in separate chips--memory, logic processing, or analog-digital conversion--onto one chip. With these functions consolidated, the usual circuit board can be discarded.
Systems-on-a-chip, usable in set-top boxes, satellite disks, or digital video disks, is already on sale. It won't be a factor this year, says Hirsch, but will boost bottom-line growth in '98.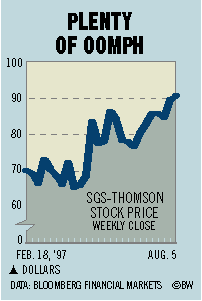 Hirsch says a similar potential exists for smart cards. These resemble credit cards but include a chip that can store more data than a magnetic stripe. Only 2% of the world's smart cards are in the U.S.: Europe has 90%. The global total is projected to grow from 650 million now to 4 billion by 2000.
"We control 35% of the smart-card chip market worldwide," says Jean-Philippe Dauvin, chief economist at SGS. Smart-card chips generate 4% of SGS's revenues. But revenues from smart cards could get much bigger as the U.S. market grows, Dauvin says.
SGS, ninth-largest in worldwide chip sales, is "among the best-managed chipmakers," says Mike Gumport, a Lehman Brothers analyst. He expects SGS to earn $3.30 a share this year, $4.55 in 1998, and $5.50 in 1999.
Before it's here, it's on the Bloomberg Terminal.
LEARN MORE