Tycoons On The Trail Of The Next De Kooning
Thane Peterson
I'm in one of those dank underground walkways common in Europe, with some of America's top art collectors. We're on our way to Documenta, the huge contemporary art show held once every five years in Kassel, Germany. Our guide stops in front of a shop window lined with articles attacking the show and Catherine David, its French curator. Headlines scream: "Clique of the old Dumbheads" and "Chi Chi from Paris." Later, I realize I've been looking at a work in the show.
This is a monumental year for contemporary art shows. Most of the action is in Europe, where an unprecedented confluence of important shows opened this summer. They include the Venice Biennial, Documenta (arguably the world's most important contemporary art show), and the Sculpture Projects in Munster (also in Germany, perhaps the world's most significant exhibition of large-scale sculpture, held every 10 years). So nearly every major U.S. contemporary art collector is here--people such as Ronald Lauder of Estee Lauder Cos. and Eli Broad of SunAmerica Corp.
These shows are important for collectors, not because art is sold at them (it isn't), but because they are where trends start or accelerate and where artists' reputations are made. And these aren't collectors who play it safe. Many have spent decades going for the cutting edge; these days that can mean weird video installations and performance art that really isn't collectible. But if you make the right choices, in 10 or 20 years the works may be mainstream--and valuable. "This is like trading over-the-counter stocks," says Ronald Rosenzweig, chief executive of Anadigics Inc., a Warren (N.J.) electronics company. "You're always looking for the next Microsoft."
Watching a titan of industry poking a dead mealworm in yellowish sand or pondering a photo of an eviscerated rabbit is an experience not to be missed. "Very tactile," says Rosenzweig, as he gropes a squishy, breastlike object, part of a work by Austrian Martin Walde.
The group I've hooked up with was organized by The New Museum of Contemporary Art in New York. Other participants include Charles and Joan Lazarus of Toys `R' Us Inc. fame, Neuberger & Berman's Arthur Goldberg and his wife, Carol, and Toby Devan Lewis, who curates the collection of the Progressive Corp., the Cleveland insurer. I handle BUSINESS WEEK's art coverage, mainly as a labor of love--and because I paint in oils in my free time. Although, at 45, I'm younger than most of them and consider myself at least mildly hip, I feel suddenly conservative.
STATIC. We move into the main part of Documenta, and I'm with the sixtysomething Goldberg. We climb into Resident Alien, a 20-foot metal shipping container, the floor of which Israeli artist Sigalit Landau has pounded into a steel hillock. Something is happening in the back. We scramble over there, only to find ourselves looking up into an upside-down toilet with a radio in it sputtering German. The dignified Goldberg, who has been collecting avant-garde art for three decades, is unperturbed. "It's about the whole experience of getting in and out of [here]," he says.
Why do wealthy executives spend their vacations doing this? It's a love of art and a desire to support emerging artists, but it's also about picking artists before they get hot. A few months ago, I saw part of the Goldbergs' collection in New York. In the 1980s, they bought a work by Gerhard Richter for $12,000. It's now worth a cool million.
So which artists in this summer's shows have a chance of making it that big? Well, British art is going from red- to white-hot. Gerard Goodrow, a Frankfurt-based contemporary art specialist with Christie's, singles out Rachel Whiteread, 34, who makes castings of everything from books to rooms. Late last year, she was taken on by London's trendy Anthony d'Offay Gallery, and prices of her works are shooting up. Dinos and Jake Chapman, who do quasi-realistic sculptures, also are taking off. Prices of their smaller pieces are up 25%, to about $16,500, and could rise another 20% by fall.
It's harder to identify up-and-comers at Documenta, partly because the show gives so much space to established artists, many of whom have become a tad passe. Brazilian-born Oyvind Fahlstrom has been largely forgotten since his death in Sweden in 1976, but the airing at Documenta seems sure to give his colorful cutout figures new cachet. Documenta may put new impetus behind the work of some well-known photographers--the U.S.'s Robert Adams and Helen Levitt and the Netherlands' Ed van der Elsken. There are a few hot newcomers: The Goldbergs like drawings by Germany's Dorothee Golz (my personal favorite), France's Anne-Marie Schneider, and sculptures by America's Andrea Zittel.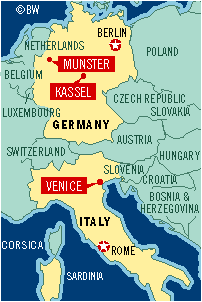 IN YOUR FACE. In a way, it's odd to see corporate types so passionate about art that is so provocative. We go back onto the rainy streets of Kassel and pause near a bus stop, where we spot a kiosk resembling those carrying advertisements for newspapers and panty hose. It's actually a work by New York-based Hans Haacke, and the ad slogans are quotes from executives telling why they sponsor art shows. Hilmar Kopper, head of Deutsche Bank, says: "Whoever pays, controls." From Alain Dominique Perrin, Cartier's head: "It is a tool for shaping public opinion."
But these aren't collectors who shy away from controversy. Last year, some Progressive employees protested the hanging at headquarters of a work by Kerry James Marshall, the painter who gets the biggest play at Documenta. They objected to the seemingly stereotypical portrayal of blacks, until Marshall, who is black, talked with them. "I don't pick easy work that would give a wallpaper effect," Lewis says. "I want people to be challenged." For that kind of art, Europe is the place to be this summer.
Before it's here, it's on the Bloomberg Terminal.
LEARN MORE