Tobacco Country Faces Life After Tobacco
Peter Galuszka
The breeze that blows in from the stand of loblolly pines is hot, so there's no relief from the blazing Carolina sun. Steve Griffin bends over one of the chest-high tobacco plants stretching in straight rows in his dry field. He looks at the flowering top, touches a silky green leaf. "Nah," he says, "too early. Maybe next week, if we get some rain."
It's a critical time for Griffin's 100-acre tobacco crop. Spring was cool and wet on his 1,025-acre family farm in this Big Swamp community six miles north of the small town of Washington, on the eastern edge of North Carolina's tobacco belt. Then suddenly, summer's heat steamed in. Tobacco is a hardy plant that can take climatic extremes. But these days, it's the political winds that threaten North Carolina's tobacco crop. Growers have battled antismoking forces for decades, but now, with the proposed $368 billion settlement between state attorneys general and cigarette makers, they're asking themselves if this is the end for them.
What's at stake for Griffin, 44, is two-thirds of his $750,000 annual gross income. In a good year, his 100-acre tobacco quota brings in $500,000, more than all his other products combined--cotton, peanuts, oats, corn, soybeans, timber, and wheat. "The deal may change, but in any event, it's bad for us. The question is just how bad," he says.
Cigarette manufactures have a cushion in robust demand overseas, notably in Europe and Southeast Asia, which counters flat domestic consumption. And promising new markets are opening up in Russia, China, and Vietnam as smokers switch from heavy-tasting local brands to America's milder cigarettes. So tobacco companies are churning out more cigarettes than ever before.
But that's little comfort for growers such as Griffin. They face strong competition from farmers in Brazil, Zimbabwe, and China. Griffin fumes that if the tobacco deal kills U.S. demand by making cigarettes too expensive, U.S. cigarette makers, left with only overseas smokers, will shift wholesale to buying foreign tobaccos. It won't matter that foreign growers can't match the quality of the bright leaf grown in North Carolina or the rich burley from the Virginia and Kentucky foothills, he says.
There's also concern about what the agreement will do to the complex price-support system that keeps auction prices high. Under one of two surviving New Deal-era agriculture-support programs (the other is for peanuts), farmers are allotted a certain number of acres, usually 50, for tobacco. The allotments, which are enforced by the federal government, can be rented. The program started in 1938, when tobacco was a penny a pound, partly to squelch any attempts by cigarette makers to snatch up foreclosed farms and monopolize tobacco growing. Last year, tobacco was $1.92 per pound. "The tobacco program tends to preserve small farms," says Blake Brown, a professor of agricultural economics at North Carolina State University in Raleigh.
But if the support program becomes a victim of political fights expected over the proposed tobacco deal, prices could drop by as much as 50 cents, driving many of those small farmers out of business. As a large farmer, Griffin probably could hang on, though his income would drop.
HOG WASTE. Griffin's greatest uncertainty, however, is what would happen if the settlement becomes a first step in banning tobacco outright. The Tobacco Belt's sandy, loamy soil, along with the hot humid climate, is perfect for growing tobacco. But it can't grow much else. There's cotton, but North Carolina farmers who have switched find that their quality can't compete with cotton from Texas, the country's biggest grower. And while Griffin plants 100 acres of cotton--the same acreage as tobacco--he makes only a fraction as much from it. Another possibility is livestock, especially hogs. Since 1990, hog farms have made their mark on the North Carolina landscape. But hog waste has begun spilling into the state's endangered estuaries. So there's a year-long moratorium on new hog farms.
As we walk along the rows of tobacco, Griffin stops at a plant to pinch off a shoot. A farmer needs to know the precise steps to take to boost nicotine and tar levels in the plants' leaves. Higher levels bring higher prices, he says. In a few days, he'll start "suckering," or pulling new leaf growths, from the tobacco plants and "topping," or lopping off the flowers. That will drive more nicotine and tar into leaves that will later be harvested, or "primed."
It's curious that so much rides on Griffin's ability to coax more nicotine and tar into his plants. Those chemicals, of course, are part of what has caused tobacco's problems. They help give smokers their addictive hit and sense of satisfaction--and they are part of the sooty mix of chemicals that kills 400,000 smokers each year. Companies pay top dollar for leaves high in tar and nicotine--the cause of lawsuits and antismoking restrictions--and later go to great lengths to reduce the content.
The irony doesn't escape the nonsmoking Griffin. His grandfather smoked with no problems, he says, but his father, a smoker and a tobacco farmer, died in 1978 at age 65 of lung cancer.
For generations, tobacco growing has been good to both North Carolina and Griffin, a North Carolina State math major who dropped out in the 1970s to farm. He nets about $80,000 a year and recently put an addition on his house. He also has a new pickup. The tobacco crop is worth some $22 million to 200 growers in Beaufort County, and $1 billion to North Carolina, the leading tobacco state. When added to cigarette production, tobacco is worth $12 billion, or 8% of North Carolina's economy.
BY-THE-DRINK. Such big bucks underscore some cultural peculiarities of the rural South. Beaufort County, for example, may have worshipped the weed for decades, but it didn't allow liquor-by-the-drink until nine years ago.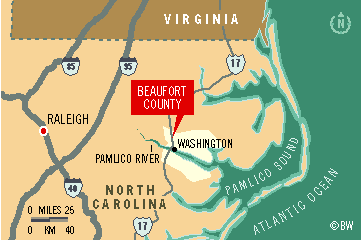 Tobacco's economic clout was driven home to me in 1974, when I began my journalism career on the Washington Daily News in nearby Washington, N.C., population 10,000. My job included putting together a special edition celebrating the August opening of the local tobacco market. When Washington's four outlets came alive, money flowed. There'd be enough ads for 50 extra newspaper pages, and that kept me up well into the night writing feature stories to fill the space. Since then, as owners retired or died, the warehouses have closed. Today, there's no longer a tobacco edition of the paper.
As we finish our walk, Griffin and I seek the shade. He is pensive. In the proposed settlement, Griffin and some 134,000 other tobacco growers undoubtedly will get squeezed. And if the settlement leads to an outright ban on tobacco--an unlikely outcome that many of North Carolina's growers fear--Griffith says: "I can't make it farming."