It has been 40 years since a group of engineers, including the legendary Gordon Moore and Robert Noyce, joined six others to found Fairchild Semiconductor, a pioneer in working exclusively with a simple material called silicon. The rest, as they say, is history. But what a history--the fascinating saga of how the orchards around Fairchild's headquarters in Mountain View, Calif., eventually blossomed into the hotbed of the Information Age.
Silicon Valley is a true melting pot, with immigrants from all over the world providing much of the intellectual firepower. Andy Grove, for example, an emigre from Hungary, teamed up with Moore and Noyce to build Intel Corp. into a superstar.
But in many ways, the Valley is quintessentially American: the romantic entrepreneurialism of Henry Ford and Thomas Edison recreated by, among others, Steve Jobs and Steve Wozniak starting Apple Computer Inc. in a garage.
We have been telling parts of this story regularly over the years. When we launched our Information Processing department in the 1970s, I'm proud to say, we were the first noncomputer magazine to institute a regular section to cover the burgeoning hardware and software industries on a weekly basis. Since then, we have run scores and scores of cover stories and special reports on information technology and won well more than our share of editorial prizes for computer coverage.
So it was not a tough call to decide what to write about in this, BUSINESS WEEK's first-ever special summer double issue: The story of what really makes Silicon Valley tick in the 1990s--the story of the people, the culture, the deals, and the technology. For our gatefold cover photograph, we got a dozen stars of Silicon Valley together in one room and asked them to ham it up a bit when they said cheese. In typical Silicon Valley fashion, they happily agreed.
The whole project was headed by Kathy Rebello, who just last April became the senior editor in charge of BUSINESS WEEK's information technology coverage. Kathy is perfectly suited for the multitasking involved here. A graduate of San Jose State University, she has lived in the Valley since 1985. She joined our San Francisco bureau in 1991, became bureau chief in 1995, then moved the six-person bureau to San Mateo to be closer to the high-tech action. Since becoming a senior editor, she splits her time between New York and San Mateo. The distinctive look of this Special Issue was created by Senior Art Director Francesca Messina. Associate Picture Editor Ronnie Weil handled the photography.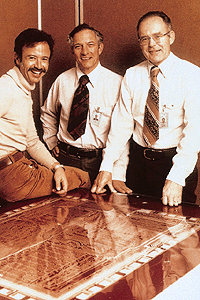 This being the Information Age, we decided not to restrict our Silicon Valley presentation to print. We have cooperated with the CNBC cable television network, which will be running complementary stories for a week beginning on Aug. 8. Our Web site, www.businessweek.com, and our AOL site, Keyword: BW, will also feature plenty of information that's not contained in the magazine, including an interactive list of the Valley's biggest public companies and transcripts of key interviews. The region that is behind so many of today's innovations deserves nothing less than multimedia treatment.