Prices: Detroit Finally Gets It
Ford leads the way in holding down prices. But can carmakers wean the public off the rebate habit?
Kathleen Kerwin
It had become routine. For years, when Detroit auto makers rolled out their new models each fall, they automatically tacked on a price hike, regardless of what their Japanese competitors were up to. So when Ford Motor Co. announced on Aug. 1 that it would hold prices flat for the new model year, New Jersey auto dealer Peter Jarvis took it as a sign that Detroit had finally got it. "Car manufacturers have woken up and decided they can't go on [raising prices] forever," he says.
It's a wake-up call that many thought the Big Three U.S. carmakers would never answer. But General Motors Corp. announced on June 26 that it would hike 1998 prices just 1.3% on average. And Chrysler Corp. executives hint they will hold prices level, and perhaps even reduce them on a few models. Rigorous cost-cutting and a softer yen have been enabling the Japanese to slice prices on new models as they arrive in the U.S. As a result, in the past three years, Japan's prices inched up just 4%, while the Big Three raised sticker prices by nearly 12%. It's hardly surprising that Tokyo nabbed another 1.5 points of U.S. car sales from Detroit in that time.
To hang on to sales, domestic auto makers later slapped hefty rebates on all but the hottest vehicles. But Motown is now working the front end, forgoing most increases--and even trimming some prices. At the same time, domestic auto makers are going head-to-head with Japanese rivals in improving quality and adding features. The Big Three still trail Japan in shrinking sticker prices, "but at least they're not still raising prices willy-nilly," says Susan Jacobs, president of Jacobs & Associates, a Rutherford (N.J.) auto consulting firm.
The curbing of car prices cheers economists. Americans' standard of living can rise only if wages outstrip price increases. Big-ticket items such as cars influence that equation heavily. Rebates already were bringing down the average prices paid for autos, even before the last round of pricing. The Bureau of Labor Statistics calculates that wages rose 3.7% in the 12 months ended in June, compared with a mere 0.2% increase in actual car prices. Schroder Wertheim & Co. auto analyst John Casesa says car prices are finally starting to act like those on computers and home appliances: "1998 is shaping up [as] a year when a comparably equipped car costs less than it did in 1997."
SPORT-UTE SCARE. Unfortunately for the Big Three, holding prices in check isn't likely to wean consumers off rebates. "We've taught them if it's not on sale this week, it will be next week," laments dealer Jarvis. So rebates and other incentives, which averaged $1,789 per vehicle in the first half of 1997, are likely to remain high. One reason: the steep price of a new car, which now averages nearly $19,000. Says Diane C. Swonk, deputy chief economist at First Chicago NBD Corp.: "These vehicles won't sell without gimmicks."
Scariest for auto execs is the growing need to offer rebates on high-profit minivans and compact sport-utility vehicles, which until recently were on a tear. That's expected to continue as Dodge introduces its big SUV, the big Durango, and on the luxury end of sport-utes, Mercedes-Benz brings out its Alabama-built M-Class and Lincoln its Navigator. In minivans, Toyota Motor Corp. is offering the Sienna. Its lower price is more attuned to U.S. tastes than the Previa it replaces.
Even full-size pickup trucks, the industry's rebate-free zone, are threatened. GM marketing chief Ronald L. Zarrella has begun to worry about the once-unthinkable: rebates on big pickups, where sales have slowed lately. "I don't think it's going to happen," he says. "But if it does, that will get very expensive." Indeed. GM sells nearly 690,000 big pickups each year, so even a $500 rebate could cost the company $345 million.
Detroit's saving grace has been accelerating efficiency and cost-cutting, which give it leeway to keep the lid on prices without killing profits. GM's 15 new car and truck models were all designed to cost it less, thanks to fewer parts and simpler assembly. Even with GM's modest 1998 price hike, Zarrella says the company has a price edge: "We think we've still got a pretty good value story, vs. the Japanese."
Ford has slashed $1.8 billion in costs already this year. Flush with profits, the No.2 auto maker made its watershed announcement: The sticker prices for comparably equipped 1998 cars will fall 1.1%, while truck prices rise 0.5%. Combined, prices will be unchanged. Ford cut $740 from the base price of its bread-and-butter Taurus, to start at $18,795. And to combat Toyota's RAV4 and Honda Motor Co.'s CR-V small sport-utes, Ford dropped the base price of its two-door, two-wheel-drive Ford Explorer Sport $1,940, to $19,995.
In the wake of Ford's actions, the industry is awaiting Chrysler's response. It hasn't yet announced what it will charge for its 1998 lineup, including new midsize sedans, the Chrysler Concorde and Dodge Intrepid, which go on sale this fall. But flat or lower prices are a good bet for carryover models. "We've been chasing internal costs very heavily," says James P. Holden, Chrysler's executive vice-president for sales and marketing. "That, coupled with new products and model simplification, allows us to hold the line."
Despite Detroit's resolve, Japanese carmakers are reducing costs and slashing prices even faster. The most popular version of Nissan Motor Co.'s new Altima costs $17,990--$1,500 less than the previous version, thanks to a weaker yen and savings on items such as antilock brakes. Some versions of the Honda Accord, set to debut in September, may cost less, too.
Toyota has become the most ambitious cost-cutter of all. It's expected to slash the price of its Corolla subcompact by as much as $1,000, according to Christopher W. Cedergren, managing partner at Nextrend, a Thousand Oaks (Calif.) auto consulting firm. How? Through myriad small savings on bumper parts, glove compartments, and headlights. And Toyota's Lexus Div. could lop $6,000 or more from the sticker of its slow-selling GS300 when the new version arrives in October, Cedergren says. "It's going to escalate," he adds. "Toyota is still looking at very aggressive cost-cutting."
FAMILY-SEDAN WAR. The main reason price wars have grown so fierce now is that auto makers continue to add models and boost output, even though car and light-truck sales have been flat at 15 million units for several years. "Demand is not growing, but supply is," says analyst Casesa.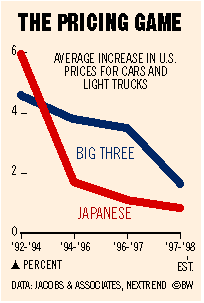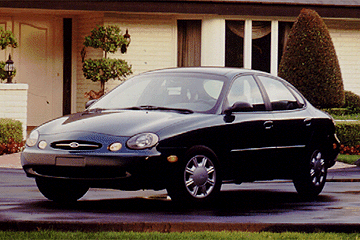 Nowhere is the battle more intense than in family sedans. The new Nissan Altima, Dodge Intrepid, Oldsmobile Intrigue, Mazda 626, Chrysler Concorde, Volkswagen Passat, and volume champ Honda Accord join dozens of current models. Never mind that luxury sales are slack. There will be new Audi A6, Cadillac Seville, and Lexus GS300 sedans, as well as Mercedes CLK and Volvo C70 coupes. The sluggish small-car segment gets a new Toyota Corolla, a Chevy Prizm, and next spring, the '90s version of the VW Beetle.
The glut bodes more headaches for carmakers and dealers but lots
of bargains for buyers. "Consumers are in the driver's seat," says Ford Chairman Alex J. Trotman, calling the 1998 model year "the greatest buyer's market in history." For customers frustrated by years of climbing prices, that's good news indeed.