Is It Too Late For Thomson?
France's ailing consumer-electronics giant needs big fixes fast
Gail Edmondson
France's Socialist leaders must be cursing their predecessors for leaving such a headache behind. Last fall, former Prime Minister Alain Juppe tried to sell state-owned Thomson Multimedia, the ailing consumer-electronics giant, to South Korea's Daewoo Corp. for one franc plus a $1.8 billion government recapitalization. Its workers struck, triggering a violent public backlash that halted the privatization. Now, France's new government must pay the price. On July 29, TMM posted a first-half loss of $228.7 million. And its new management still wants the recapitalization.
But even with a huge cash infusion, the odds of making the $6.3 billion company profitable are slim. TMM has been steadily losing 1% to 1.5% of its European market share in televisions annually over the past five years. Its six TV brands now account for only 12% of the market, while rivals such as Philips Electronics have gained ground.
CLUTTER. Profit margins on TVs are razor-thin even among global leaders such as Sony Corp. and Matsushita Electric Industrial Co., and sixth-ranked Thomson's manufacturing costs are roughly double those of its most efficient Asian rivals. The company is saddled with an assortment of different brand names, including RCA, Saba, and Telefunken, that confuse customers and raise marketing costs. And given France's 12.8% unemployment rate, the government won't dare trim TMM's bloated payroll.
Former Chief Executive Alain Prestat closed eight factories last year in Germany, Singapore, and the U.S., transferring production to lower-cost plants in Mexico, Eastern Europe, and Asia. But Thomson's cost-cutting has been too little, too late--and hugely inefficient factories in France have been spared. Now, only a radical overhaul can ensure its survival. Says Al Lill, research director at Stamford (Conn.) market researcher Gartner Group Inc.: "If they continue making small changes, they will die a slow and agonizing death."
Yet neither the French government nor the new management is willing to take the ax to Thomson. To punish Prestat for opposing the Daewoo sale, Juppe replaced him in March with Thierry Breton, former head of strategy at computer maker Groupe Bull. Breton launched an emergency program to cut $200 million in nonsalary costs by yearend and set up six new strategic business units with profit-and-loss responsibility. He also reopened negotiations with Daewoo to test interest in a minority stake and is seeking other industrial partners.
But market experts say it's unlikely that Breton will find a company that wants minority ownership. "If you don't have control, there is no logic to investing. It's only a move by the French to spread the shareholder risk," says one senior European consumer-electronics executive. "Our condition is majority control," says a senior executive at Daewoo Electronics Co.
BRIGHT SPOTS. Breton and his new management team think they can parlay Thomson's hot digital technology into new products and services with fatter margins. TMM is a leader in digital video disks and the market for digital-satellite systems, the hardware used to receive TV signals broadcast by satellite. With Compaq Computer Corp., it has also developed and launched a PC/TV. And starting in 1999, Thomson will inherit a stream of some $100 million in licensing revenues from RCA patents that General Electric Co. still holds, a deal arranged when GE sold RCA to Thomson in 1988.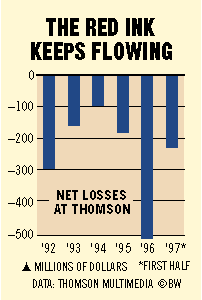 But the market for Web TVs, digital video disks, and network computers may not take off until well after 2000. And even with the recapitalization, critics say that without a thorough reorganization, Thomson can't move fast enough to change its bottom line. "Thomson is totally unfocused," says one U.S. market expert. "Ask what their strategy is, and you won't get a clear answer."
Despite the recent victory that prolonged Thomson's independence, the company's workforce and most of its top managers left for summer vacation on Aug. 1 in a worried atmosphere. "If TMM makes the wrong choice, it will cease to exist," says Robert Vieillard, a Confederation Francaise Democratique du Travail union representative at Thomson. That's a message management and government leaders still haven't heeded.
Before it's here, it's on the Bloomberg Terminal.
LEARN MORE