Commentary: In This Drug War, Consumers Are The Casualties
John Carey
Mention "drug war" and most people think of fighting cocaine or heroin abuse. But there's another big battle under way: Brand-name drugmakers' fight to stop generic copies of their products from hitting the market once their patents expire. With cheaper generic drugs now accounting for more than half of all prescriptions, any brand-name manufacturer that can successfully delay introduction of a new generic rival can reap hundreds of millions of dollars in extra revenue.
Unfortunately for taxpayers and patients, brand-name companies are winning too many of these rearguard actions. And they're employing a host of tactics. The latest audacious move came on July 28, when drugmaker Serono Laboratories Inc. persuaded U.S. District Court Judge Stanley Sporkin to take an unprecedented step: He overturned the Food & Drug Administration's approval of a generic version of Pergonal, a fertility drug.
REVERSAL. Serono originally petitioned the FDA to deny approval to a generic Pergonal back in 1992, arguing that the generic wasn't an exact match, especially when it came to the inactive proteins and other trace ingredients that make up more than 90% of the urine-derived drug. But the FDA didn't buy it. In January, it approved New York-based Ferring Pharmaceuticals Inc.'s application to make a generic version of the drug. Now Sporkin has issued a preliminary injunction barring Ferring from marketing the generic.
Ferring's president and CEO, Dr. Joseph T. Curti, already has filed an appeal. "We think this judgment is very unfair to patients and to the FDA," he says. He's right. For one thing, it's laughable to think judges are better qualified than the FDA to gauge complex scientific issues. For another, experts have found no proof that generic drugs the FDA has approved differ in any substantive way from brand-name goods. "When people have tried to do studies to show that generics aren't equivalent or that FDA rules are lax, they haven't been able to find any differences," says Leslie Z. Benet, chairman of the biopharmaceutical sciences department at the University of California at San Francisco.
Lawsuits are just one strategy being used by the brand-name companies. Lobbyists for Glaxo Wellcome PLC and G.D. Searle & Co. have wangled longer patent terms through international treaties and amendments to spending bills in Congress. Others have deluged the FDA with arguments that a given generic isn't the same as the brand-name product. Some have been lobbying states to ban FDA-approved generics. "There's been a tremendous effort by the [brand-name drug] industry to preclude generic competition," says Janet Woodcock, director of the FDA's drug-evaluation center.
One industry tactic, FDA officials say, is the strategy of continuing to make drugs with impurities, inactive substances, and other trace ingredients difficult or impossible to replicate. Companies then argue that these poorly understood ingredients may be important to a drug's safety and efficacy. Wyeth-Ayerst Laboratories Inc., for one, used this argument to block a generic version of its $860 million-a-year estrogen drug Premarin. "One of the most successful strategies to delay competition has been to suggest that we don't know enough to approve a generic," explains Dillon, Read & Co. analyst Jerry I. Treppel.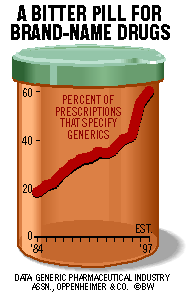 DuPont Merck Pharmaceutical Co. trotted out a clever scheme last January. When it became clear the FDA would allow Barr Laboratories Inc. to market a generic version of its $500 million-a-year blood thinner, Coumadin, DuPont Merck financed a drive to get states to pass laws requiring patient and doctor consent for generic substitutions. So far, the effort has paid off only in North Carolina. But CEO Bruce Downey figures Barr is spending $500,000 monthly to fight back.
Brand-name companies are just protecting their assets. Indeed, as the FDA's Woodcock says, "Their mission is to preserve their market, making whatever arguments they can." But everyone from judges to lawmakers must recognize the drugmakers' arguments for what they are: an effort to protect lucrative products. If they do, this is one drug war that can be won.