Black Ink From The Mississippi?
by
The waters haven't been kind to American Classic Voyages (AMCV): In the past three years, the river-cruise line has drifted into the red. But its stock, which dipped to 9 from a high of 12 5/8 in February, has made a comeback: It closed above 11 on Aug. 5. What's up?
One big stakeholder who has been a steady buyer despite the losses is Chairman Sam Zell, a real estate mogul and financier. Equity-DQSB--a group that includes Zell and American Classic directors Arthur Greenberg, Ann Lurie, and Sheli Rosenberg--holds 51% of the stock. The curious thing is that, on July 31, the board authorized repurchase of 1 million shares on the open market or in negotiated transactions. American Classic has 13.9 million shares outstanding.
Some pros believe Zell is preparing to take the company private in a leveraged buyout. "American Classic is an attractive target for larger cruise-line companies," says one money manager who has been snapping up shares. "In the past two weeks, more market makers have come into the stock, suggesting a surge of new interest," says one trader.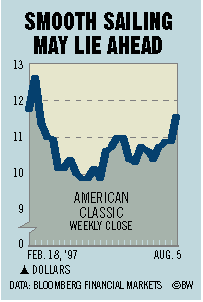 American Classic has three paddle-wheel steamers that cruise the Mississippi. One of its ships, the Delta Queen, is a National Historic Landmark. Another ship, the Mississippi Queen, carries 416 passengers, and its newest vessel, the American Queen, has a capacity of 436 passengers. American Classic also owns the 582-foot Independence, which cruises the Hawaiian islands.
Analyst Phil Fisher of San Francisco's Genesis Merchant Group Securities figures American Classic will be in the black soon, earning 36 cents a share in 1997 and 77 cents in 1998. The buyback would add 6 cents to earnings, he says. American Classic CEO Philip Calian says the buyback supports "the good investment value in the stock that the market doesn't perceive."
Before it's here, it's on the Bloomberg Terminal.
LEARN MORE