A Wellspring Called Stanford
It built a community of technical scholars--and a world-class town-gown network
A panorama of fruit orchards greeted visitors to the southern San Francisco Bay area in the 1940s. Stanford University and the horse farms of its founder, Leland Stanford, formed the northern gateway to a valley tucked between two coastal mountain ranges and dotted with mission and train-stop towns such as Menlo Park, Palo Alto, Santa Clara, and San Jose. It was an idyllic scene, with its mild climate, rolling hills, and agrarian pace.
But when a young, ambitious Stanford engineering dean, Frederick Emmons Terman, looked past the university's red tiled roofs, he saw raw opportunity. He had already helped a clutch of his best students, including Bill Hewlett and Dave Packard, start their own electronics companies. After World War II, Terman knew the government was poised to begin an unprecedented investment in science and engineering. In that, he saw the potential to build a community of technical scholars to rival Oxford, Bologna, and other great centers of knowledge.
Terman, who died in 1982, would have loved what Silicon Valley has become. Part science lab, part industrial park, the Valley is a turbulent confluence of academic ardor, industrial intensity, unbridled imagination, and money. Flanked by Stanford, the University of California at Berkeley, and lesser-known engineering schools at Santa Clara University and San Jose State University, the Valley produces more tech graduates than any region in the U.S.--with over 4,100 engineering degrees in 1995.
Many alumni stay put and prosper. Between 1960 and 1990, companies started by Stanford graduates created over 250,000 jobs. Indeed, a family tree of Silicon Valley's origins shows a multigenerational, digital "begetting" of biblical proportions. "It's a network, as opposed to a hierarchy," says venture capitalist L. John Doerr of Kleiner Perkins Caufield & Byers. "And it's rooted in a terrific educational system."
FARM SYSTEM. These days, Stanford engineering grad students aren't surprised when engineering professor Thomas Byers--brother of a prosperous venture capitalist--farms them out to local startups in midcourse to learn the meaning of entrepreneurship. Stanford faculty members are invited to address the "Sunrise Club," a regular meeting of local venture capitalists who drop by the student union to hear about the latest research. The dean of the Graduate School of Business, Michael Spence, sits on the board of Sun Microsystems Inc. and is as fluent in routers and switches as in economic theory. "You are constantly bombarded [with technology] and so, almost by accident, you keep up to date," he says. "You actually end up right in the pushing and shoving, and then at the margin, you're a customer, too."
Stanford's influence is immense. But it is just one template among many. Berkeley--whose alumni include both Gordon E. Moore and Andrew S. Grove of Intel Corp.--has its own character and strengths. Its style "has been to develop technology, convince existing companies to use the ideas, and then go back and develop more technology," says David A. Patterson, one of the school's prominent computer scientists.
Among the high-tech trends Berkeley scientists helped shape are relational databases, the most popular version of the UNIX operating system, and a speedy microprocessor architecture known as RISC, for reduced instruction-set computing. Some of these achievements sprang naturally from academic pursuits. And certainly the school has produced its share of superstars, including Sun Microsystems Vice-President of Research William Joy and Informix Corp.'s Roger Sippl, as well as legal power broker Larry W. Sonsini. But at Berkeley, many tech wizards stay in their academic robes, while at Stanford, "it's almost expected that a successful faculty member will at some point start a company," says Patterson.
The loyalty and affection alumni show their alma maters is part of the Silicon Valley perpetual motion machine. Silicon Graphics Inc., started by Stanford engineering professor James H. Clark, became a huge donor of money and equipment. Equally important, alums donate their personal time. Wilson Sonsini Goodrich & Rosati partner Sonsini and Mario M. Rosati, for example, both teach courses at Berkeley.
"NO LIMIT." David Kelley, the successful head of Palo Alto's IDEO industrial design firm, exemplifies what goes right in the Valley's academic/industry relations. When he's not running IDEO, he's helping to steer a product-design program at his alma mater, Stanford. "The reason I knock myself out and work two full-time jobs is I feel indebted to Stanford," says Kelley. Thanks to the school's business-cum-science orientation, "I became a guy who made products instead of calculating brackets."
It seems like nobody does just one thing around here. Stanford's current engineering dean, John Hennessy, did pioneering computer-science work in RISC chips in the early 1980s. Then, Hennessy took a sabbatical, raised some venture capital, and founded MIPS Computing. He returned to Stanford in 1985. "The gap between research and what's in production," says Hennessy, "has narrowed to almost nothing."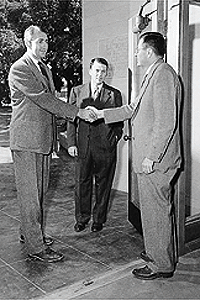 For all his vision, Dean Terman might well have gaped at 1990s-style entrepreneurship. He could never have pictured Internet darling Yahoo! Inc., which started out in a grungy campus trailer in 1994, where electrical engineering grad students David Fhilo and Jerry Yang were bored to tears with their PhD thesis. They began almost mindlessly making lists of their favorite Web sites. Rather than crack down on the digital goofing, the engineering school cut the pair slack.
Fast-forward two years to a hugely successful 1996 initial public offering--and a time to return favors. Filo and Yang, worth more than $100 million apiece, became the youngest individuals ever to endow a professorship in the Stanford engineering school, with a gift of $2 million. "As long as we maintain the practices that have made us what we are today," Terman wrote in 1973, describing Silicon Valley's energy and success, "then there is no limit to the longevity of the situation."
Amen, say today's entrepreneurs. Or rather, Yahoo!
Before it's here, it's on the Bloomberg Terminal.
LEARN MORE