A Second Look At Sterling Vision
By
For Sterling Vision (ISEE), the throng of short-sellers hasn't blurred the view of the smart-money investors who have been snapping up shares. They think recent moves by the operator of 350 optical stores in 27 states will send the shorts scrambling for cover.
So far, the shorts have had the upper hand, with Sterling's shares stuck in the 6-to-7 range, down from nearly 11 in January. But that could change: A far larger optical company is eyeballing Sterling for a buyout, says one money manager who has been buying. He figures Sterling is worth 20 in a takeover.
Lancer Partners, which holds 5.6%, has been buying more shares partly in anticipation of such a squeeze. This could occur even without a take-over, because management is determined to enhance shareholder value.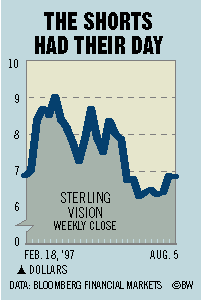 There is talk that Sterling Vision, a purveyor of eyeglasses and laser-based eye surgery, may authorize a share buyback and hire an investment bank to find ways of boosting the stock. Chairman Robert Cohen wouldn't comment on the rumors, but he acknowledges that moves are afoot to boost sales and earnings. One way, he says, is to step up links with health maintenance organizations.
Last month, Sterling signed a pact with Oxford Health Plans to provide discount services for Oxford's Healthy Bonus program. "Two other major HMOs may sign up," says Cohen. "We see managed care as the source of tremendous growth." One analyst predicts Sterling returning to profitability this year and expects $1 a share in '98, based in part on two acquisitions being negotiated.