U.S.: Higher Wages Give Consumers Money To Burn
But ever-tighter labor markets may start to squeeze profit margins
By
A week before the July 29 report on labor costs, Federal Reserve Chairman Alan Greenspan told Congress: "Increases in the employment cost index still trail behind what previous relationships to tight labor markets would have suggested." Well, after the latest report, that's still true. For now, the bottom lines of businesses and households are all the better for it, but the future still demands caution.
Tame labor costs are not only good news for inflation and interest rates. They also suggest that corporate profit margins are not under any great pressure. Moreover, with inflation already so submissive, workers are enjoying increases in their real wages, a key reason why second-half consumer spending is set to rebound from the second-quarter slowdown. That extra buying power, amid abundant employment opportunities, also explains why household attitudes remain upbeat (charts), and why housing is likely to rebound later this summer.
The second-quarter employment cost index (ECI) for private-sector workers rose 0.8% from the first quarter, a slight acceleration from the first-quarter increase of 0.6%. Over the year, however, the cost of wages and benefits last quarter inched up only 2.9%, the same annual pace as in each of the previous four quarters.
As for profits, productivity growth through the first quarter appears to have offset much of the rise in labor costs. That means unit labor costs grew slower than prices, a precondition for rising profit margins. Of course, for that pattern to continue in the second half, employment costs will have to stay down, and productivity must stay up.
WHILE THE SECOND-QUARTER ECI offers hope on that front, history suggests that the way from here may not be easy. First, productivity growth typically slows as labor markets approach "full employment," because the least productive workers are the only ones left to hire. It would appear that second-quarter productivity was weak, given that real gross domestic product and hours worked appear to have grown at roughly similar rates. And second, amid such tight labor markets, there is no guarantee that employment costs will remain as tame as they have, especially with the wage component of the ECI already creeping up.
Straight pay from wages and salaries rose 0.9%, the same as in the first quarter. But in the first half of 1997, wages increased at a 3.6% annual rate, up from 3.4% for all of 1996 and 2.8% in 1995. That acceleration is consistent with what most economic models would predict, given that the jobless rate has fallen to only 5% or less.
However, slow growth in employee benefits continues to offset faster wage growth, holding down overall costs. Benefits rose 0.7% last quarter, after almost no growth in the first quarter. Businesses have profited from the mild growth of benefits. Indeed, it was the cost containment in benefits from 1993 until early 1996 that caused almost all the slowdown in total compensation.
That downtrend, though, may go into reverse, and health care is a big reason why. In the 1990s, the slowdown in medical-insurance premiums trimmed the growth in overall bennies. Companies squeezed costs by pushing workers into health-maintenance organizations or bargaining with hospitals for discounts. But those cost-cutting methods are about played out, as suggested by the second-quarter speedup in the medical-care component of the consumer price index. So unless they drop health insurance altogether, businesses are likely to face rising premiums in the future.
Moreover, many employee benefits--including paid vacations, pension contributions, and holiday pay--are tied to wages. So as salaries rise, so will the cost of benefits.
THE GOOD NEWS FOR WORKERS is that even as benefits have held down overall employment costs, the upward creep in wages, combined with declining inflation, have generated the fastest annual growth in real wages since 1983. Using the wage component of the ECI and the core consumer price index, which excludes the ups and downs of energy and food that can distort inflation's underlying trend, real wages in the second quarter were up 0.8% from a year ago. Before early 1996, this measure of real wages had not risen in ten years.
Rising purchasing power helps explain the cheery mood of consumers. The Conference Board's index of consumer confidence slipped to 126.5 in July, but that's coming off of a 28-year high of 129.9 in June.
The index covering consumers' assessments of the economy's present condition and the measure of expectations for the next six months each fell a bit in July from June's very high levels. However, consumers remained convinced that labor markets are tight. The board said 36% of consumers thought jobs were plentiful in July, the same high percentage as in June, which was the most since 1969.
MORE BUYING POWER and confidence about the future are always key ingredients in a healthy outlook for housing. Throw in the recent fall in mortgage rates, and it is easy to see why housing will perform better this quarter than it did in the second.
Sales of new single-family homes rose 6.1% in June, to an annual rate of 819,000. Sales for the second quarter averaged 785,000 per month, down from the nearly 20-year high of 824,000 hit in the first quarter, although that level was probably exaggerated by the government's new data-collection method. Thanks to the summer bond rally, however, housing demand picked up considerably heading into the third quarter and builders' inventories are already low.
The average 30-year fixed mortgage rate slipped to 7.65% in mid-July, from 8.3% in early April. As a result, house hunters are making offers, and homeowners are flocking to refinance existing loans. The four-week average of mortgage applications for home purchases is running at their highest pace since the Mortgage Bankers Assn. started keeping records in 1990 (chart). Given the lag between applications and closings, those loan requests should show up as increased home sales in August and September.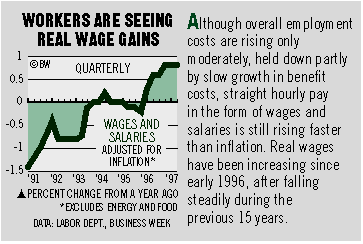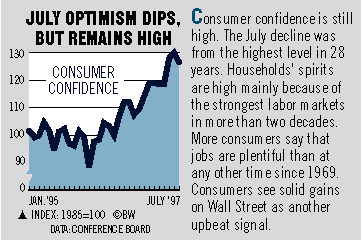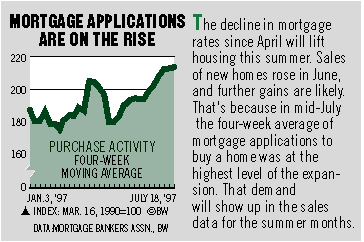 Low rates also have touched off another round of refi madness. Refinancing applications in the week ended July 18 were double their pace of April. That refi money is likely to join income growth as additional fuel for consumer spending.
For now, overall labor costs continue to defy those past relationships that Greenspan discussed. And rising profit margins, high readings on confidence, and the spread of home ownership suggest that businesses and consumers are sharing in the benefits. The danger is that rising real wages could propel stronger-than-expected consumer-led demand in the second half. If so, look for a further tightening in the labor markets and bigger additions to wage growth.