The New Wisdom On Salomon
By
Two months ago, the takeover pros lamented: "Salomon isn't for sale." Maybe then--but no longer.
In recent days, this global securities company "has been elevated to the top of the list of buyout targets," says a New York investment banker who claims to know about a "fresh expression of interest" by a U.S. commercial bank.
Indeed, shares of Salomon rose to 60 1/8 on July 30, up from 55 a few days before. That's close to Salomon's 52-week high of 61 3/8 in February. The stock has been a laggard all year, trailing the overall market and other brokerage stocks.
There is more than one set of eyes on Salomon: A Swiss bank is also looking, according to the investment strategist at one Wall Street bank. A representative of the Swiss bank has "informally communicated" its interest to Salomon executives, says this pro.
One shift in the Salomon equation: Warren Buffett, who controls 18.5%, is said to be more inclined now toward a sale. For one thing, Salomon seems to be turning the corner--on its way to improved profitability. Also, Salomon reported better-than-expected second-quarter results, prompting analysts to raise their 1997 and 1998 estimates.
"Currently, Salomon's price-to-book-value ratio is 1.30--one of the lowest in the industry," says Steven Eisman, an analyst at Oppenheimer. He has raised his 1997 earnings estimate from $5.20 a share to $6.30, although he's among those still wary about the predictability of Salomon's earnings. Much of Salomon's trading revenue is based on its proprietary trading--or trading for its own account. That makes the earnings stream, says Eisman, "more volatile" than those of its competitors.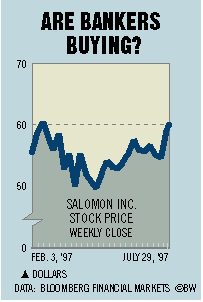 Nonetheless, "Salomon's major problems are now behind it," notes one investment manager, who has started snapping up shares. If Salomon is able to maintain decent earnings, he adds, it could command a rich buyout price.
The investment banker who insists that he's aware of a U.S. bank's interest says Salomon's top brass may be swayed to sell with a purchase offer of three times the company's 1997 estimated book value of $45 a share, or $135 a share. But two times book, or $90, appears to be the price that the U.S. bank may be willing to pay--in stock and cash. Salomon spokesman Robert Baker declined comment. Buffett couldn't be reached for comment.