Taking An Alternate Route To The Mainland
Esprit's red-chip joint venture will speed its expansion in China
by
Michael Ying, chairman of Esprit Holdings, knows all too well the frustrations of running a retail business in China. Ying's Hong Kong-based company, which controls the Esprit name in Asia and Europe, has opened 108 clothing stores in China over the past 4 1/2 years. But the returns so far have been less than stellar: The mainland shops still account for just 4% of sales. The vagaries of the market, Ying says, with different bureaucrats in different places issuing different diktats, make retailing a very hard nut to crack. "Every time you go to a new province or a new city, you never know enough," he says. "You're never quite sure."
BUDDY SYSTEM. Ying is now betting that he has found some solid ground. He has teamed up with one of China's most powerful "red chips" to establish a joint venture that could put him in a commanding position on the mainland. On July 24, Esprit and China Resources Enterprises, the Hong Kong subsidiary of state-controlled China Resources Holdings, announced plans to open 100 Esprit outlets in China. And Esprit isn't the only retailer with a red-chip partner. In late June, a subsidiary of the State Council's China Everbright IHC Pacific bought a 20% stake in Theme International, a Hong Kong retailer of fashion clothing for young working women.
More acquisitions or joint ventures with red-chip companies are likely. "Everyone wants the red influence," notes Jensen Chow, an analyst with ING Barings Ltd. in Hong Kong. The mainland's market for casual and more upscale clothing, now estimated to be about 100 million people, is growing, and with Western names such as Benetton and the Gap not much of a factor, Hong Kong brands seem poised to dominate. In late July, the shares of Le Saunda, a shoe chain, and Peace Mark, which sells watches and leather goods, jumped amid speculation that they were negotiating agreements with Chinese partners.
Speculation now focuses on Hong Kong's retail heavyweight, Giordano International. The company still faces fallout from the insulting personal comments made by its founder, Jimmy Lai, about Premier Li Peng in 1994. While Lai has since resigned and sold off his stake, Beijing shows no inclination to forgive and forget. Giordano has dramatically scaled back its expansion plans, which once called for 1,000 mainland stores by 2000. In its first-half report, issued in July, the company said that in China, it was "operating in a challenging environment" and noted that sales for the half were "flat" compared with the same period in 1996. That's one reason many analysts think Giordano needs a high-powered Chinese partner to solve its mainland woes. And unless it finds one, Esprit and Theme have the chance to race ahead: In the retail business in China, potential franchisees are likely to favor companies that have Beijing's blessing.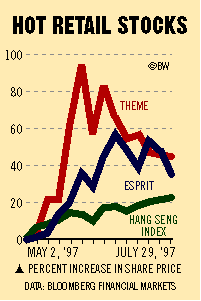 TIGHTER WADS. Looking longer term, Esprit's challenge is to sell casual clothing that is pricier than what its competitors offer on their mainland shelves. An Esprit shirt, for example, can cost five times more than a comparable Giordano item. "Their prices are still at the high end," says analyst Shirley Chan of Nikko Research Center in Hong Kong. And while brand names exert considerable pull in Hong Kong, mainland consumers "are very price-conscious." Plus, competition is already fierce in Beijing, Shanghai, and Guangzhou, Chan says. While second-tier cities will be a source of growth, income levels are lower.
Ying says he's not too concerned. Esprit wants to open as many stores as possible on the mainland as quickly as possible. And with China Resources as a partner, he says, the road is better paved. "We can go to cities where we don't have connections today," Ying says. Other Hong Kong retailers hope they'll be able to say the same thing soon.
Before it's here, it's on the Bloomberg Terminal.
LEARN MORE