Storm Clouds Over Asia's `Safe Haven'
The currency crisis starts to threaten Singapore's growth
by
On July 23, Richard Hu, Singapore's Finance Minister walked into a Parliament debate to persuade his rich nation that Singapore was immune to Asia's currency crisis. In a crisp Oxford accent, Hu argued eloquently that concerns about Singapore's currency were "misplaced."
If only Singapore's financial markets were as confident. Once taken for granted as a safe haven, the Singapore dollar is under attack by the same speculators who have just ravaged Southeast Asia's other currencies. The Singapore dollar is climbing out of a 38-month low. In two months it could fall another 4% from mid-July levels, to 1.50 to the U.S. dollar, according to Merrill Lynch & Co. "The `safe-haven currency' is being painted with the same brush as the Thai baht, the Philippine peso, the Malaysian ringgit, and the Indonesian rupiah," says ING Barings Securities (Singapore) economist Daragh Maher with a sigh.
The region's currency turmoil could have an effect on Singapore's growth. Singapore's total trade with Indonesia, Malaysia, the Philippines, and Thailand makes up 27% of exports, exceeding the island's trade with Japan and the U.S. "Like it or not, Singapore has grown on the growth of Southeast Asia. So if the region goes down, Singapore will get hit," says Fong Cheng Hong, senior vice-president for fixed-income research at Nomura Singapore Ltd. The hardest hit Singapore-based companies will be those that depend on consumer spending in the region, as does Cerebos Pacific Ltd. This maker of chicken soup-stock earns 26% of its net profits in Thailand--where the currency has depreciated by 20% since July 2.
Singapore's economy has already been experiencing slower growth this year after a buildup of overcapacity in the electronics industry. TECH Semiconductor Singapore and Chartered Semiconductor Manufacturing, each partly owned by the Singaporean government, have ramped up capacity in dynamic random-access memory chips (DRAMs), prices of which have fallen by 70% from recent highs, say industry analysts. As a result, the island's total exports declined 1% during the first half of the year from the same period in 1996. That slump will reduce this year's economic growth rate by at least one percentage point from last year's 7%.
Although Singapore is not immune to the shock of the region's devaluations, it will certainly fare better than Thailand and Malaysia. A drop in the dollar's value will help Singapore compete better against its neighbors, whose exports are now cheaper after the devaluations. Meanwhile, Singapore has awesome financial strengths. The Monetary Authority of Singapore (MAS), the city-state's central bank, has enough hard currency reserves to pay for six months' worth of imports. Until the Singapore dollar slipped, the MAS won kudos for allowing the currency to appreciate steadily. That policy has kept inflation low at 2%--a considerable feat, since Singapore imports almost everything it needs for domestic use and export-oriented manufacturing. Singapore's commercial banks still are strong, with less than 5% of their loans in debt-plagued Thailand.
CONSOLATION PRIZE. Singapore companies also have deep pockets. Since the Singapore dollar has fallen much less than the baht and the ringgit, those companies may make some timely acquisitions in the region if the price is right. "They are now waiting for the wounded to keel over," says Lim Say Boon, associate director at Crosby Corporate Advisory in Singapore.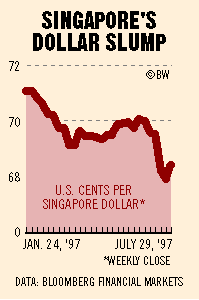 To hear a mergers-and-acquisitions consultant tell it, one investor is patiently waiting for the owners of a hotel in the region to give him the property in exchange for debt servicing. One bargain hunter has already pounced: Development Bank of Singapore (DBS) has signed a memorandum of understanding to raise its 10% equity stake in Sri Dhana Finance Public Co., an ailing Thai finance firm, to 60%.
Those deals will be a nice consolation for Singapore after suffering the sting of a falling currency. But the best thing that could happen to the city-state is for its regional trading partners to recover from the currency turmoil. Thailand is taking a step in that direction by seeking a bailout from the International Monetary Fund. Until then, Singapore risks seeing its own dollar battered and its amazing economy taken down a notch.
Before it's here, it's on the Bloomberg Terminal.
LEARN MORE