Silicon Graphics: Is The Turnaround Here?
Robert D. Hof
Silicon Graphics Inc. pulled off a bit of its old magic on July 24. The workstation maker--famous for machines that helped create films such as Jurassic Park, but stumbling recently (BW--Aug. 4)--posted June-quarter earnings that blew past analysts' expectations. The company reversed last year's loss with a profit of $102 million on a 19% sales rise, to $1.2 billion. The stock shot up 35% over two days, to 25 5/16 on July 25, and on July 30 closed at 24 3/8.
Has SGI solved its problems and turned back the personal-computer upstarts? Not yet. But it has proved it has good running shoes. Chased by PC workstations at the low end, SGI is scurrying to sell bigger workstations and large-scale "servers" for corporate networks--the type of machines PC makers can't match. Server sales jumped 30% from the third fiscal quarter to the fourth, ended June 30. That and big shipments of $20,000-and-up Octane workstations boosted gross margins six points, to 49%.
Even so, Windows NT workstations are giving the Mountain View (Calif.) company a run for its money. Sales of its low-end 02 model fell in the fourth quarter--even though SGI had solved earlier shipment snafus.
Whether SGI can sustain the earnings momentum is unclear. While sales were some $150 million above expectations, SGI's order backlog fell by $172 million--indicating that the sales boost came from shipping products customers ordered earlier this year. And William Kelly, senior vice-president for corporate operations, says the current quarter could show a "much larger" sales drop than the usual 10% summer dip, thanks to the strong fourth quarter.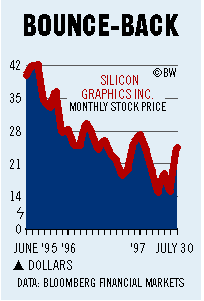 SGI has plans to keep its comeback rolling. "We are very optimistic about this coming year and beyond," Executive Vice-President Gary L. Lauer declares in a letter to BUSINESS WEEK. Sources say at least 200 SGI engineers are designing a workstation using Intel's Pentium Pro chips and Windows NT to counter the PC workstation crowd. The new machines may not appear for six months, but customers are eager for them. Says Michael J. Zeitlin, a technology manager at Texaco Inc.: "SGI needs to spend a lot more attention on the low end."
Also, SGI has to fend off rivals like Sun Microsystems Inc. Sun has four times SGI's market share and regularly posts strong earnings. Such consistency is key for capturing the commercial buyers SGI craves, says Furman Selz analyst Martin Pyykkonen. It will take more than one good quarter for SGI to prove itself.