Should Taiwan Investors Be Afraid Of Heights?
Stocks are at near-record levels--and looking pretty solid
Jonathan Moore
The Taiwan Stock Exchange, never a market for the timid, is testing investors' mettle again. The TWSE index is up 43% already this year and shows few signs of pausing. Leading the charge are Taiwan's fast-growing electronics companies, which have soared 216% this year as exports surge. On July 29, even as other East Asian exchanges dithered, Taipei's hectic market briefly pierced its 10,000 mark for the first time since 1990.
But it was there that the speculative bubble burst seven years ago, sending the cash-driven property and share markets careening. Over the next eight months, the Taiwan Exchange lost 80% of its value.
The question now is whether Taipei's economic and financial environment has matured enough to let the market ascend further without turning into another speculative madhouse. While a correction of 10% to 15% would surprise no one, most analysts say another crash is unlikely. Inflation and interest rates are low, they note, and the prospects for earnings are bright. The economy is forecast to grow by about 6.5% this year and next. And the absence of a diverse mix of investment alternatives means that liquidity will remain the primary factor it has always been in Taipei. "There's a lot of cash and a lot of buyers out there who can break the fall," says Peter Kurz, managing director of Merrill Lynch Taiwan Ltd. "We're at the beginning, not the end, of a bull market."
FIRMER FOOTING. There is plenty to support Kurz's view. The market as a whole is trading at a prospective price-earnings ratio of 34, a touch high for Taipei but a long way from the 70-plus ratios of the bubble years. It also has more breadth than it used to--and sense, it would seem. Listings have doubled since the last peak, to nearly 400. And with more to choose from, investors have begun valuing stocks according to long-range earnings forecasts, which had little to do with their buy and sell decisions when the market was made mostly of froth.
And the forecasts are rosy. Earnings are expected to grow 26% this year and 17% in 1998, making the current p-e levels look more sensible. For makers of semiconductors, personal computers, peripherals, and other electronic products, export orders were up 33% in June over year-earlier figures. Reflecting the current surge in U.S. sales of PCs, companies such as Taiwan Semiconductor Manufacturing Co. and Lite-On Technology have already raised 1997 earnings forecasts, and analysts expect others--Primax Electronics, United Microelectronics, Asustek Computer, and Compeq--to follow. Says Ben Lee, a senior analyst at Nomura Securities Investment Advisory Co.: "People think the PC growth rate will be much higher than what we thought in the first half of the year."
More fundamentally, Taiwan's corporations are sounder than they were in 1990. The technology companies driving the market, for instance, are larger and have stronger operations and balance sheets. Some have even replaced heavy debt ratios with excess cash. Equally important, Taipei has loosened exchange controls somewhat since the speculative 1980s--a move intended to ease intense demand in the financial markets.
Still, the authorities seem to come up a little short of sanguine. Taiwan's Securities & Exchange Commission has signaled often enough that it favors a buoyant but stable market--not just to restore credibility, but also because Taipei wants to sell shares of state-owned giants such as China Steel. But for the same reasons, the SEC is clearly nervous now. On July 22, it disclosed that it had asked Taipei accounting firms to be extra vigilant in reviewing the half-year financial reports of listed electronics companies. While the ostensible concern was about possibly overstated earnings, analysts took the move mainly as an attempt to cool the market. It did--for two sessions. Then the technology stocks sent the market soaring again.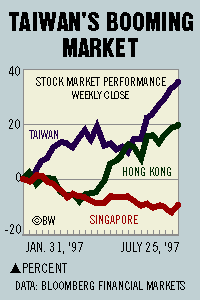 Some observers point to such gyrations as a sure sign that Taipei is still a market driven by liquidity. Given current valuations, an unexpectedly poor showing by the island's high-tech stars would surely lead to another big chill in the market. But most analysts are growing more confident that Taipei's current boom does not have to come with a bust. "The big difference between now and the 1990 market is it's not completely crazed," says Nathan Emerson, an analyst in the Taipei branch of HG Asia Ltd. Some big money seems to be betting that history won't repeat itself.
Before it's here, it's on the Bloomberg Terminal.
LEARN MORE