Mylan Labs Makes A Recovery
by
Although generic medicines remain the top choice among patients, the makers of these low-priced remedies have remained in the cellar: Investors have shied away because of price-cutting that seriously depressed earnings. But guess what? The price wars seem to be over, and certain generic-drug producers are sparking investors' interest.
"Signs of stability are emerging," says Ian Sanderson of Cowen & Co. His favorite: Mylan Laboratories (MYL), which has a line of 90 generic remedies. "We are upgrading Mylan to a buy rating, based on an improving earnings outlook in 1998-99," he says. "With its leading generic drug franchise, Mylan Labs is the top play in the expected near-term turnaround in the generic-drug market."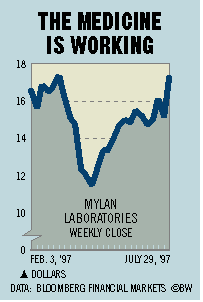 There's another reason for Mylan's appeal: a possible buyout offer from a foreign drugmaker wanting to get in on the rebound in the market for generics. As managed-care buyers embrace generics to balance their budgets, he says, "substitution rates will jump from 43%-45% of prescriptions in 1996 to 50%-55% by 2001."
Now at 17, Mylan is worth 35 in a buyout, say analysts. Top executives of a big distributor of pharmaceuticals agree Mylan is vulnerable. They say Mylan is getting edgy and may spin off one division to thwart a takeover. Mylan didn't return calls.
Before it's here, it's on the Bloomberg Terminal.
LEARN MORE